Albums Of The Year: Wet Leg Takes On The Ephemeral, Insignificant Present
Everything about the mischievous British duo feels like a euphemism. Their playful music reflects that — and the moment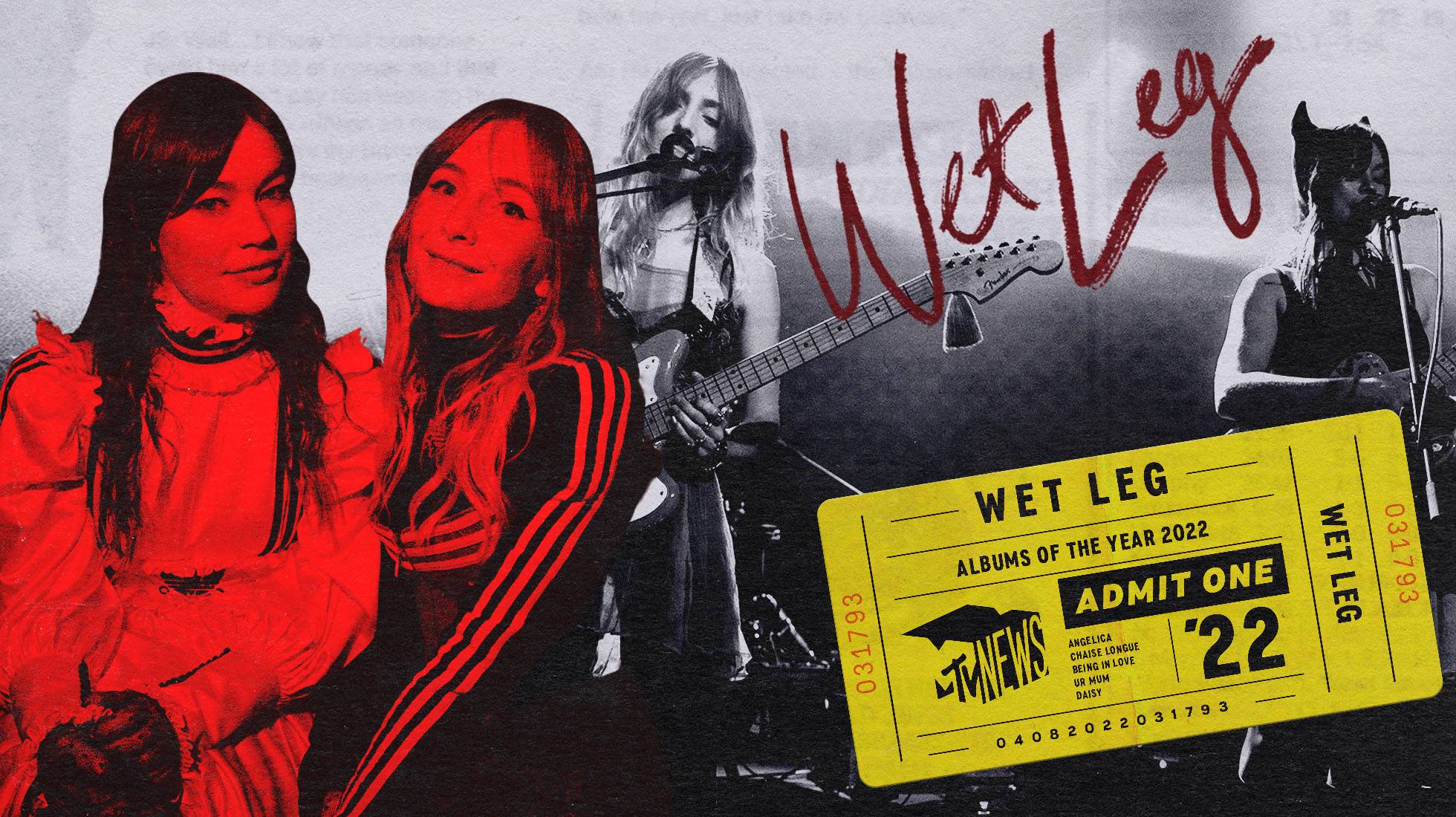 This is the fifth and final essay MTV News published this week honoring our 2022 Albums of the Year. See the first, second, third, and fourth.
It's the summer of 2021. Trump isn't president anymore, but this new guy isn't much better. There's still a pandemic raging, but the sun is out and people want to party. You compulsively hit your vape every five minutes chasing that first head rush. The TikTok algorithm knows more about your trauma than your therapist does. You're absorbing enough content on your phone every minute to feel moved by absolutely none of it.
Into this atmosphere enters "Chaise Longue." It's the first song from a band no one has heard of, a duo of two mischievous Brits named Rhian Teasdale and Hester Chambers. They picked their group name by trying out different emoji combinations and landing on Wet Leg. It's fitting considering the absurdist tone of "Chaise Longue." Within the first minute, they repeat the line "I got the big D" over and over, an innuendo that becomes catchier each time it's sung. Everything about "Chaise Longue" and Wet Leg feels like a euphemism, which is necessary in 2021, and into 2022 as well, when everything has gone to shit and all you can do is laugh it off and pretend it's OK.
Though it seems as though they've never put out any other music, they're signed to Domino Records, a powerhouse of idiosyncratic hitmakers like Pavement and Arctic Monkeys as well as cult indie acts such as Alex G and Animal Collective. "Chaise Longue" grows alongside industry-plant accusations. Some say there's an excess of talk-singing post-punk bands. (To name a few: Dry Cleaning, Cheekface, and Fontaines D.C., who are all great.) "Chaise Longue," though, is different, not cluttered with references to time or place, yet it reaches cultural relevance. It's like a shitpost tweet, so deep in its irony that it doesn't know what reality is anymore: "Is your muffin buttered? / Would you like us to assign someone to butter your muffin? / Excuse me (what?)." The song is refreshingly uninterested in ego, more focused on balancing energy with apathy. "Chaise Longue" simultaneously brings the listener out of their nicotine-induced dissociative haze while also mimicking that sedated, bored sensation through its droll words and deadpan vocals. It has an acerbic texture of a controversial joke Matty Healy might crack in a 1975 track set against an addictively naughty bassline that only heightens the humor.
Wet Leg's more audacious "Wet Dream," however, is tricky. People like subtlety, modesty, and euphemisms. People like to be teased. On the first verse, Teasdale sings: "You're touching yourself, touching yourself / Touching your, touching yourself / Touching yourself." The context, though, changes in the second verse: "What makes you think you're good enough to think about me / When you're touching yourself?" It's raunchy but not generous, opting for resistance and disgust. "I've never seen anything so obscene / It's enough to make a girl blush," she sings, summing up the effect of listening to a Wet Leg song.
The duo were a breath of fresh air during a time when it seemed the music scene only wanted women if they were contributing to "sad girl indie," a genre that many people found to be reductive. Instead, they offered memorable riffs and anthems about being unhinged.  The TikTok consensus about Wet Leg was distaste — but maybe the intense backlash was inevitable. "Amy Schumer of music," a top comment read. Another called them "vegan music." "Not sure if something went a bit wrong when this was being recorded, but it sounds a lot better with the volume turned down," said another. Their music video for "Oh No" grappled with internet trolls head on; in a statement, they explained, "The comments that complete strangers will leave on our videos are so funny and range wildly in sentiment. Although we know it is bad for us to read them and we try to avoid it, sometimes it's irresistible when you're on your own; the 3 a.m. doom scroll really gets you."
When Harry Styles covered the song after taking the band on tour, his performance was met with praise and supportive comments. It's almost like women's desire can only be expressed through hushed, delicate means, or else it's cringe or trying too hard. That combination of daring, loud humor and physical yearning is reserved only for men. But the undeniable success of "Chaise Longue" — which has over 8 million views on YouTube and counting — proves that the music speaks for itself despite the tidal waves of misogyny.
The rest of Wet Leg's self-titled debut oscillates between highs and lows;  a few of the non-singles songs take things slower, like "Supermarket" and "Piece of Shit." The latter still retains their vibrant personality: "You say I'm mysterious 'cause I won't let you get it in / Oh, you can never tell where it is this is going / You say you're a genius, I say you must be joking." It accurately captures the experience of being a woman on Hinge.
Wet Leg likely anticipated the hate before it came — it's a risk of being a woman in rock music. But their carefree attitude contributes to the forcefulness of the songs. The album ends with "Too Late Now," which starts with an intro redolent of early 2000s pop and laments the past. "Too late now, lost track somehow / I'm like, oh my god, this world is pretty harrowing," Teasdale sings, bringing darkness into a song that sounds colorful and frivolous. Yet each part miraculously comes together in the end with a final declaration: "Everything is going wrong / I think I changed my mind again / I just need a bubble bath to set me on a higher path." It's a simple, silly testament to modern life's ephemeral, insignificant nature.  Information moves at a speed faster than light as we thoughtlessly consume it. Most of the time, Wet Leg reminds us, things really aren't that serious.
See MTV News's other 2022 Albums of the Year: