Drake's 2018 Streams Are In The Billions, With A 'B'
He's officially Spotify's most-streamed artist ever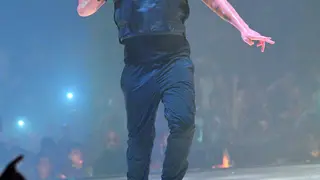 Every December, while we patiently wait for those sweet, automated Spotify year-end playlists to hit our phones, we're treated to an even larger banquet of number-crunching — namely the granular data that reveals which artists had the best 2018 as far as streaming is concerned. Now we know who ruled, and the answer makes total sense to anyone who's been following along not just the Hot 100 chart all year, but certainly culture at large.
And the person who ruled, naturally, is Drake.
Spotify revealed Tuesday (December 4) that Drizzy had another gargantuan year on the platform. In addition to becoming its most-streamed artist of all time, he was streamed 8.2 billion times in 2018 alone. It's fitting, given how three of his singles — "God's Plan," "Nice for What," and "In My Feelings" — hit No. 1 this year; just yesterday, Travis Scott's "Sicko Mode," on which Drake features, also hit No. 1. The dude needs to cover Nelly at his next karaoke outing.
"What an amazing way to end off the year," Drake wrote on Instagram to celebrate the dual achievements.
Following Drake on Spotify's most-streamed artists lists are Post Malone, XXXTENTACION, J Balvin, and Ed Sheeran. Ariana Grande, whose also had a massive year, overtook Rihanna as the platform's most-streamed female artist and the most-streamed female artist of 2018, ahead of Dua Lipa, Cardi B, Taylor Swift, and Camila Cabello.
The good news didn't stop there, though. Drake was also chosen as Apple Music's artist of the year as well. He also had three songs — his three No. 1s, to be precise — in the top five of that platform's top 100 global songs chart.
Congrats to Drizzy for all these accomplishments, but also for being the object of desire for people looking to raise the profiles of their weak-as-fuck IGs.