The Unwritten History Of 'The Hills'
We spoke to the people who lived it -- from 'behind' the camera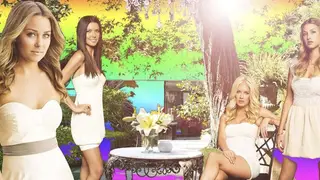 Almost 10 years ago, Lauren Conrad, Audrina Patridge, Whitney Port and Heidi Montag were living their lives wide open -- and their unique circumstances would eventually be unwritten on The Hills.
In honor of the anniversary of this milestone event -- the pilot premiered on May 31, 2006 -- MTV News spoke to some of the people who were behind the scenes and responsible for bringing this visually beautiful and perfectly dramatic series to millions of viewers. They were asked to reflect on their favorite memories with their co-workers, reveal their take on some legendary moments that became synonymous with the show and describe their interactions with the wonderfully diverse and dynamic Tinseltown gang. Without further ado, here's the candid chat -- please hold your mascara tears.
INTRODUCING THE ROUND TABLE
Here they are, in order of when they began working on the MTV production.
COLIN NASH: I came on after the second season of Laguna Beach, and then I came on to help do the pilot with [creator] Adam [DiVello]. During the first season, I was supervising producer and the second season co-executive producer. And then I stayed on the show through the second season and just partially the third season before moving over to The City.
JASON SANDS: I began working on the show after the pilot was shot -- they brought me in. I had been doing Laguna Beach for a year and a half before then. And then I slid over from Laguna to The Hills, almost through the end of the third season -- kind of through right after Paris. I was a series producer and then a supervising producer -- I basically ran the field, so we would generally have a production meeting on Mondays and Tuesdays, and then we'd shoot Wednesday through Saturday. We would line up what we were going to do that week and what stories were developing and what was happening in the cast's lives, and then we'd work to organize locations and figure out what we were going to shoot that week.
JOSH HARNDEN: When I was hired, I was told I was a story assistant, but when the show actually aired, I was an associate story editor. I was on through Season 5; I was in the office during Season 6, but I was working on The City then. For awhile, I was working on both shows, and then during Season 6 I transitioned to The City. I wound up being a supervising story producer.
SPIKE VAN BRIESEN: I was a field producer -- I came on at the end of the first season and worked until the wedding and then did The City.
SARA MAST: I started on Season 3 through Season 6. I was an executive producer. I ran everything in the field and also helped oversee edit. Jason Sands worked under me; Spike was a supervising producer under me. I kind of oversaw story, oversaw production in the field, oversaw crew, worked with Adam in the edits to deliver the episodes and worked with the cast to figure out what was going on in their lives. I was responsible to the network for budget. Colin Nash did the first two seasons, and then I took over for him when he left.
FIRST IMPRESSIONS OF THE ORIGINAL CAST
Some of the producers (Nash and Sands) previously worked with Conrad and Montag during Season 2 of 'Laguna Beach.' Others met the entire cast when they began working on the series.
NASH: I liked Lauren a lot as I first got to know her during Laguna Beach. She was super-friendly to the crew, and her family always had us up to their house to shoot scenes [during Laguna Beach]. They basically had an open-door policy for us and were so welcoming to the crew in their house. They were just amazing to work with -- I still ask Lauren about Jim and Kathy all the time when I see her.
When we first met Audrina, she was really sweet -- she was just someone living in that apartment complex and suddenly had this show asking her to be involved. She was great, though. She was just generally excited about doing the show.
I love Whitney -- Whitney's amazing. Whitney's so sweet and was super-innocent when she started. She came on as someone who was really, genuinely most interested in applying for a Teen Vogue internship and was going through that process with Teen Vogue when we came in. For us, all of a sudden for us to say, "Do you want to possibly film a TV show?" -- she was I think a little hesitant at first but then excited about it. But the main thing for her was always the internship, first and foremost. She really wanted to prove herself at Teen Vogue.
Heidi I first met during Laguna -- when she and Lauren had come back from San Francisco together during one of their school breaks because they met up there. And she was a lot of fun -- I just remember this ball of energy coming into Lauren's house. And it was just different because we were so used to all of the Laguna cast that we had been filming with, and suddenly this new personality dropped in the scene and shook things up. She was so spunky, so energetic -- she was so much fun. And once Adam pitched The Hills, we were really excited about Heidi being a part of Lauren moving to the city, and all of that helped us visualize what that could actually be when we knew her roommate.
MAST: Lauren is a genuine human being who wore her heart on her sleeve, which was fabulous for us. She truly felt deeply about everything in her life, which was why it was so fun to follow her. She cared about her relationships with her friends and, you know, was very involved. And she's a smart girl.
Audrina was a romantic. She was always up and down in her relationship with Justin Bobby, who we found that season. She just wanted to find love.
Whitney was kind of the cool girl. She stayed out of the drama. I did The City for two seasons too, and she was kind of smart. She laid low, and she was a good friend to Lauren. She stayed by her side.
And Heidi's an opportunist. Heidi saw her road to success was paved through Lauren, so she jumped on that bandwagon.
SANDS: I watched Lauren turn from a girl into a woman. She was a girl who lived with her parents when I met her. And then when I left her, she was somebody who was making really smart decisions -- buying real estate, running a business. It is really rare to see somebody in this business make really smart decisions. Of the hundreds of thousands of people who have been on reality television, you can probably count on one hand the people who have parlayed that into success. You've got Bethenny [Frankel], you've got Lauren, you've got the Kardashians. So many cast members think, "I'm gonna be rich, I'm gonna be famous," and it's like you're more likely to be struck by lightning.
DESCRIBING THE TEEN VOGUE OFFICES
Lauren and Whitney put in long hours at the magazine -- and so did production.
VAN BRIESEN: It was a closet -- there were no windows. It was a big, spacious closet with rows of shoes. I think [it was] any woman's dream -- you go in there, and there's nothing but beautiful clothes and shoes.
SANDS: The Teen Vogue office was much smaller than it looked on TV. It was very difficult to shoot in -- we spent a lot of time in there. There were only so many angles. And we were constantly trying to re-invent what we were doing so that it didn't feel as repetitive as it did. How could we shoot something new and different? It was really difficult to shoot other than Lauren at her desk and Whitney at her desk. If they were trying to rearrange the closet, it was really tough to get the kind of coverage we wanted to get in there.
REMEMBERING THE HILLSIDE VILLAS
Lauren, Heidi and Audrina lived in the housing complex during the early days of 'The Hills.' While Lauren's roommates changed, the apartment remained a main hangout spot for the girls.
MAST: It was a lot messier than I wanted it to be. I don't think they changed their cat box in like a year. So, oftentimes, we were Febreezing around to be in there. They evolved in their decorating style as they got older -- at first, it was kind of like a pit.
VAN BRIESEN: We might have made it look spacious, but there was nothing spacious about it. Obviously, I think it was a lot bigger than any apartment a 21-year-old girl could afford coming to live in Los Angeles. But it was pretty small, and we used the most of our lens to make it look as spacious as we could. The girls had a two-bedroom with a den. And the den was our video village.
SPENDING MANY NIGHTS AT LES DEUX
The gang could always be found at the former venue -- and more than a few iconic scenes (we'll get to those in a minute) unfolded at the Hollywood site.
MAST: I spent a lot of time at Les Deux -- it was the happening spot. A lot of drama went down there between all of them. It was definitely the "in" place to be -- a lot of celebrities, a lot of people waiting in line to get in. We definitely felt like we were at the place to be in Hollywood, but to shoot in it was a nightmare because it was loud, and we were always in an alley somewhere where someone was puking on our shoes. The kids friggin loved it.
SANDS: It was very difficult to get enough light so we could get exposure and be able to see what we wanted to see. A lot of the patrons didn't want us there, so that made it difficult because it was kind of like a hostile environment. Just loud, hard to talk to the crew, hard to hear what the cast was saying.
Lauren's infamous statement -- which was directed at Heidi and unfolded at the aforementioned locale and can be seen below -- was a monumental event for those who witnessed the unforgettable showdown.
VAN BRIESEN: So we were there, and what becomes stressful for a producer was the show that we were doing. We were like, "Fuck, are they in the right light?' I know the content is good, but Adam was very adamant about how we shot things and, as a collaborative team, we were all on that same page.
SANDS: I was less nervous that they weren't lit than I was sort of just concerned that our cameras would be where they needed to be -- that something would happen and we wouldn't be able to document it. I figured we could get light on them. But you're dealing with a crowded, large space -- and that they could end up in a bathroom or in a corner.
 ISOLATING THE MOST STRESSFUL BEHIND-THE-SCENES INCIDENT 
Being in front of the cameras is one story, but ensuring that everything is going stress-free behind the lens is an entirely different tale.
NASH: There was a moment in the second season when Heidi and Lauren left the club because Heidi was upset with Spencer over who she saw him with at the club. And it was hard because there was a real moment that was happening with Heidi being really upset and wanting privacy to deal with her life and get support from Lauren, but then we knew we had to cover it for the show. So it was really difficult because everyone had different needs out of that situation, and Lauren was finally like, "Fine, you can come up for five minutes." All the crew rushed in vans and jumped over there to get the cameras set up, and I think we rolled for five minutes and it was a great, emotional scene. I think that was always the tough thing -- the push and pull of personal life versus private life.
SANDS: It was the night Area opened, the grand opening. And we were done, we were wrapping out. And one of our assistants was trying to pull a light down that had been rigged up on the ceiling -- and stood on the water main, breaking the water main and bringing water into the building. At that point, we had a one-inch water main going into the club, just spilling water. Now, it didn't go into the club because of the way it was -- we were out on the street -- but we shut the water off. The club could no longer use bathrooms, they could no longer use their toilets, they could no longer use their soda syphon. We shut off the water for Area, and the fire department had to come and turn the water off from the street. That was stressful. I've never seen so much water in my life -- it was like a fire hose.
VAN BRIESEN: When Justin Bobby kissed a girl, or grabbed a girl, when we were at another club and we lost them for a minute. They were behind a dumpster, and we were behind that, trying to make a dumpster look beautiful and sexy. But it still worked. It was a combination of making sure the organic craziness and content is getting put on tape. But at the same time, trying to keep the aesthetics of what the show was for all of us was an important part and stressful. [For old time's sake, it's above]
THE OPPORTUNITY OF A LIFETIME
Lauren traveled to the City of Lights during Season 3 (see a highlight below) -- after earning the distinction of being "the girl who didn't go to Paris." And understandably, the voyage was a wonderful memory for the production team.
SANDS: Paris was amazing. I think the greatest thing about my job is that I get to do things people don't ordinarily get to do. So in the case of the Paris trip, they sent me to Paris for two weeks to scout. And then I came home and then went back to shoot it. So I got to spend four weeks in Paris that year. When we were in Paris, we were literally scouting the best restaurants, the best stores, the most picturesque views -- and we shot in all of those locations. So I got to see Paris on the MTV dime. It was amazing.
VAN BRIESEN: Going to Paris was a huge ordeal for us. We hit Paris very hard. We really, really went crazy. A small crew of us flew out there and really hit that city. None of us knew how to speak French -- we had a translator come with us, Tatiana, who was a good friend of Adam's. We were all jet-lagged beyond belief, and I think we had 10 days to shoot that -- maybe even shorter -- including the normal b-roll we get of a city and going into the Crillon Ball. The biggest thing for me on that trip was we met Phil Collins, because Lily Collins was a huge fan of us. And we had this little thing where Lily met Lauren -- we had this scene, but I don't think it lived. But I remember going, "Holy shit, that's Phil Collins." We were at this crazy debutante ball and this whole thing -- even for myself -- for a young woman to see this, I'd be like, "This is amazing."
NASH: The Paris trip for the Crillon debutante ball took a lot of pre-production and working with this other producer Tatiana Kelly, and we had to come in and figure out where they could visit, work, go out, where they could stay and basically where we could film. And nobody over there really understood what we were asking for, which made it hard to clear things in advance. But we really aimed to hit the hot spots in Paris which was very tough to do when you weren't working with a Sex In the City-size budget. But we worked every angle we could as Adam DiVello and all of us demanded that we had to have the dream Paris locations -- Plaza Athénée, The Eiffel Tower, The Arc De Triomphe, The Crillon Hotel, the coolest stores like Colette, and of course, this being The Hills, the coolest clubs as well.
THE MOST UNFORGETTABLE TRIPS
The cast often jetted out of Los Angeles -- and the adventures weren't just limited to the cast.
MAST: I've been to Vegas, Costa Rica, Miami -- I was on all of those trips. When we went to Costa Rica, at one point Brody decided to jump off of a 40-foot cliff into a waterfall pool. I had visions of him breaking his neck at the bottom and having to get a helicopter evacuate him out of the Costa Rican jungle. Costa Rica was definitely eventful because we were overseas, and we had a hurricane the first day that knocked out our generator.
We had a crazy Vegas trip where we stayed in the Palms suite and the kids ended up throwing a party, and we had 200 people coming through until like 4 in the morning. I just remember being like, "How are we going to get these kids out of here?" Cabo was also eventful -- especially when Justin Bobby threatened to jump in the pool, off like a 30-foot balcony, and I had to talk him down. And when he went surfing in a lightning storm at 3 in the morning. The list goes on. I did Heidi and Spencer's runaway elope wedding on Thanksgiving in Cabo, also a big event. [It's below]
VAN BRIESEN: Brody kidnapped one of my field producers [in Las Vegas]. Everybody was up all night, and we had to get this thing going and ready. And I look over and I saw Brody leaving with a backpack, and he had just gotten a whole shitload of one-dollar bills. And I'm like, "What are you doing?" And he's like, "Going to the strip club." And I was like, "You gotta bring this guy," and I didn't see my field producer for the whole rest of the trip.
There was plenty of romance -- and the producers were with the guys and gals during some legendary PDA sessions.
HARNDEN: I remember really clearly being there when Brody and Lauren kissed -- on Brody's balcony. I was on the ground basically behind the building and in the parking lot with a monitor. I could barely pick up the signal, but I remember feeling that we got something great that night.
NASH: That was an awkward discussion, Lauren and Brody looking to leave the club and us having cameras in tow looking to tag along. It's like, here is this young couple that wants to leave the club and not have the cameras ruin their romance, but they were pretty cool about it. That first on-camera kiss between the two of them was an amazing moment.
VAN BRIESEN: Justin Bobby and Audrina were dating and doing their thing. And Lauren had just gotten that house in the Sunset Flats, and Audrina was living there. I knew that they had skinny-dipped when we weren't around. It was fun because this is obviously a coming-of-age thing for all these kids, and this is what kids do when they're coming of age. They're sexual and they're living out loud and they're breaking the rules. So when Audrina took her top off, Justin had no idea she was gonna do it. And he was like, "Oh my God." Sometimes, you would get these really organic expressions from them. And this was a young woman who was becoming very famous and everybody thinks she's so hot, and now this is the guy who gets to be with her. We were all like, "Jesus Christ I can't believe this is happening." [The gold is above]
There are 102 installments of the program -- and isolating one is not an easy task.
NASH: I really liked doing the pilot because there were so many unknown factors of what was going on and what would happen. With Teen Vogue on board, and Heidi and Lauren having found a place, and Audrina -- you could feel what was the beginning of what was to come. It was a really exciting start to it all -- it was fresh and new not only to Lauren, Heidi, Whitney and Audrina but also for us and the crew. Especially coming off the success of Laguna, you just had a feeling were in for this wild ride. And credit to Tony and Liz at MTV for supporting the show artistically and financially. It was such a creative approach to shooting a reality show, and they supported it creatively and financially every step of the way, which is a rare thing in this business these days.
HARNDEN: Probably episode 303, which was called "Truth and Time Tells All" -- which is a quote from Justin Bobby. It was really a blessed moment for me because it was the first episode I worked on, and I inherited some really good scenes. Justin Bobby had been introduced during 302, and 303 was his first of many classic scenes he was in with Audrina. It also featured the scene where Heidi painted over the graffiti that Spencer put on the wall, and we got to use this Cat Power song that was super moody and awesome.
AND THE TITLE OF MOST UNPREDICTABLE CAST MEMBER GOES TO...
Unsurprisingly, the producers have several picks.
VAN BRIESEN: Spencer was always unpredictable, which made him a great character all the time. [Like] when he got into that fight with a Bolthouse employee because the kid was totally hitting on Heidi and it was this scuffle that we had. I love all those kids, and to me, my job was to encourage them to tell the truth, encourage them to speak their feelings. My job was to encourage them to say whatever they needed to say and counsel them to get them to do that.
HARNDEN: I would say Justin Bobby. He was so difficult to wrangle, and he had sort of like a superpower of not caring what people would think if he was being a dick.
MAST: I would say Justin Bobby. He was just such a dark horse, and he was a real mystery of what he was going to do. Was he in or was he out in his relationship with Audrina? I remember when they got into a huge fight in the club and we were chasing them behind a dumpster, and he was reeling Audrina back in. It was one of those things where we ran after them with microphones and cameras. You just didn't even know if he was going to show up.
NASH: My favorite, most unpredictable character was Kelly Cutrone. I didn't really work with her until The City but she was amazing and a force to be reckoned with, and you never knew what was going to come out of her mouth. She just cut the bullshit and got right to the chase and would tell you if you were messing up -- very clearly. I also adore Lisa Love -- she was always clear about what she liked and what she didn't. She was stern with the girls but always with a wink and a smile. I'm not sure that ever came across on camera, but she knew this was an abnormal dynamic and embraced it.
GOOD TIMES WITH COLLEAGUES
It definitely wasn't all work and no play.
NASH: What was so interesting for us during the Paris trip was getting into a French work day. We would all be going through these insane, packed, busy days and then all of a sudden have to break and have a really long, leisurely two-hour lunch. For us, we just weren't used to it all, but I just remember everybody accepting that and embracing the Parisian lifestyle. But that whole trip was such a memorable experience to have with the crew.
SANDS: I remember spending Thanksgiving in Paris. I think we went to a place called American Ball -- and it was equal parts karaoke, male strippers and female strippers. And it was just the most fun I've probably ever had with a crew. It was Thanksgiving -- we all were away from our families and, you know, obviously they don't celebrate Thanksgiving in Paris. But this was a place that had an American vibe, so there were a lot of Americans there. And we were probably 20 strong -- and all of us went out and just had the most fun ever.
MAST: It was such a great crew. My favorite moment was probably the finale, where we did the big reveal on the stage -- we were all together. We just did this huge, elaborate set-up where we had them all walking, and we pulled back that big trans light. And that was a great memory. It was such a culmination of all of us being together -- we did like over 100 episodes together. I got to do such amazing stuff with these people. [Mast was one of the people who hugged Brody during the credits, and the concluding scene is above]
Stay with MTV News for continuing coverage of this milestone event -- and be sure to share your favorite memories of the series in the comments.