Lorde Is Back And Bringing 'Midsommar' Vibes To 'Solar Power'
Just in time for the summer solstice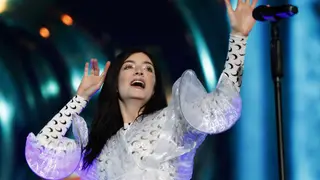 Four years after her critically acclaimed album Melodrama, Lorde finally returned earlier this month to bring hippie, summer vibes courtesy her new single "Solar Power" — as well as more anticipation for her fans. On Sunday (June 20), the 24-year-old New Zealand singer dropped a mysterious clip on her website to tease her upcoming new and third album Solar Power.
The 20-second clip depicts Lorde dressed in a beige outfit, calmly sitting and meditating behind an arrangement of plants and branches on a beach. A tent and a campsite are in the background, along with two individuals working together. The sounds accompanying the video are the wind and nature. Towards the end of the clip, the camera is focused closer to Lorde, who suddenly opens her eyes with an intense stare.
Although no textual context is provided on the clip, it is no coincidence Lorde released the clip on the summer solstice. Fans have noticed that both the new trailer and the music video of lead single "Solar Power" evoke aesthetics from the 2019 film Midsommar. A fan even created and uploaded a video on YouTube with "Solar Power" playing along with a montage of clips from the film.
In her most recent newsletter email, Lorde greeted her fans a "happy solstice."
Previously, on June 16, Lorde teased another mysterious trailer on her website with a video panning over a crop circle spelling out "SP," her upcoming album's initials.
According to a press release from Republic Records, Solar Power will be released on August 20, and 12 tracks have been revealed on the album.
1. The Path
2. Solar Power
3. California
4. Stoned in the Nail Salon
5. Fallen Fruit
6. Secrets From a Girl (Who's Seen It All)
7. The Man with An Axe
8. Dominoes
9. Big Star
10. Leader of a New Regime
11. Mood Ring
12. Oceanic Feeling
There will also be a Solar Power World Tour in 2022. Tickets go on sale on her website to the general public starting Friday, June 25, at 10 a.m. local time. Fans can sign up for Lorde's email list for first access to pre-sale tickets. Mailing list pre-sale begins on Thursday, June 24, at 10 a.m. local time. The mailing list code will be sent on Wednesday, June 23, at 3 p.m. PT / 6 p.m. ET / 11 p.m. BST.
In regards to what new vibes she will bring to the album, she wrote to her fans in a newsletter email that it will be "a celebration of the natural world, an attempt at immortalizing the deep, transcendent feelings."
"In times of heartache, grief, deep love, or confusion, I look to the natural world for answers. I've learned to breathe out, and tune in. This is what came through," she said.