Turnover Turn 'Everyday-Ass Existence' Into Zen Meditations
'Myself in the Way' is the Virginia band's most fully realized album since 2015's fiercely beloved 'Peripheral Vision'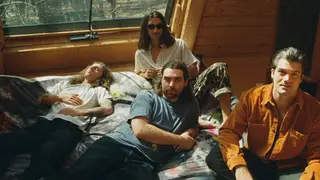 "They need to start a new project. This disco shit doesn't have anything to do with classic Turnover. The band are just relying on the name to boost their streams."
After what feels like 200 interviews with fans of the Virginia Beach-based band, I've now heard so many variations on the statement "the definition of Turnover belongs to me, a very online music geek" that my teeth have lost even the strength to bite my tongue.
"You've got 'em, bud. The classic sellout formula," I think to myself, moaning internally. "Start in pop-punk, build a passionate following with anthemic, bleeding heart dreamo and then — without abandoning your label of 10 years — pivot into emotionally abstract lounge-funk on LP number five. Cha-ching! "
You can tell, right? I've been keeping tabs on the Turnover Reddit as it wrangles with the Run for Cover shapeshifters' most divisive permutation yet, and now my mind is warped beyond repair. The bruised, possessive furor that greets every vibe-minded new single has been true agony to witness. For every fan earnestly saluting Turnover's iconoclastic direction, there are two emo diehards taking a break from sharing their framed vinyl to swap conspiracy theories about the band's "salt in the wound" affront (most prominent: the missing songwriting contributions of former lead guitarist Eric Soucy, departed in 2017 following allegations of emotional abuse). What's worse, each gatekeeping pout comes compounded by my own nagging, unpleasant sense of identification. What blessed intervention stopped me from posting shit like this here in 2017, and 2019?
Turnover's fiercely beloved 2015 sophomore masterpiece, Peripheral Vision, came out at the torrid peak of my high school immaturity — a daily emotional tornado that launched the album's windswept heartbreak and jangly, The Cure-derived riffage directly into my self-obsessed soul. With college only amplifying that angst, the album grew to occupy so much inner real estate it boxed out Turnover's increasingly chilled-out follow-up albums. My thoughtful, Pitchfork-ready criticism at the time of those subsequent LPs: "Too happy. Somebody needs to ruin frontman Austin Getz's life, and make him despondently emo again."
"Is youth always so delusional?"
Those are among the first words listeners will hear Getz sing on Myself in the Way, out today (November 4), via the track "Tears of Change." In tandem with the album title, the message is clear. No, Turnover have not fallen prey to the overpowering emotions of yore. Instead, the revelation of Myself in the Way — easily the band's greatest, most fully realized work since Peripheral Vision — is Turnover finding a gentle melancholy outside melodrama. Just as each hypnotic, multilayered groove has been constructed to deepen with relisten (a "cozy little sonic world" is how drummer Casey Getz, Austin's brother, puts it), the lyrics lock into the bittersweet accumulation of domestic adulthood — those slipstream days you idle away lazily arguing with loved ones about things you "don't even care about" and struggling to force the "tears in your head to fall from your eyes." Maybe the feelings burn more dimly but the flame lasts longer.
The same truism applies to Myself in the Way. If fans dig beneath the sparkling, polished surface, they'll be rewarded with the sort of old-school grower record that's become rare in our TikTok-dominated era. If they don't, well, you shouldn't worry about Turnover. I dial up the band twice, hoping to track their feelings across the tumultuous record cycle. Alas, from June to October, they remain as stoked as ever. The only change I can discern is limited to Austin's staggering beard growth. "I trimmed it right before it got lumberjackish," he tells me, just as I blurt out, "You look like a lumberjack!"
"We're not guided by reception. Our sonic shifts have never been reactions or plans," explains bassist Danny Dempsey. "It's always organic, based on changes in what we're listening to, which basically means changes in how we're feeling."
"Obviously we understand the frustration. We were punk kids, and that's the story of punk evolution: An artist you see yourself in puts out something inspired by music that's not really your thing," Austin says. He expresses empathy for anyone unable to make the leap from Title Fight and Beach Fossils to Sister Sledge and late-period Grateful Dead. "You're bummed at first, but hopefully you come away liking new kinds of music. If they're an artist you love, you put in the work to get into their head."
Austin tells me the "headspace" in which the band conceived Myself in the Way was "as similar to classic Turnover as it's been since Peripheral Vision." If you know the history behind that album — spurned by devastating break-ups, written in marathon "16-hour Adderall sessions" — maybe this sounds absurd. By contrast, Turnover's fifth LP gestated over three years that saw Austin getting into such clean, healthy pursuits as Buddhist meditation, distance running, and, oh yeah, proposing marriage to the woman he fell in love with after touring Peripheral Vision.
But after two consecutive albums whose rigorous recording schedules challenged the band's recent pretensions toward zen wisdom, the onset of COVID-19 returned Turnover to "everyday-ass existence." Painting houses in California, laboring in Virginia state parks, and connected only by the lyrical ideas and chord progressions they shuttled between, the band relaxed into their uncertain, tour-free future. As a result, they found the mellow sounds in their head once again united with the tempo of real living. Maturity didn't mean authoring "preachy, Good Nature-style" lyrics that fretted over the band's platform, but channeling newfound gratitude for their "emotional punk roots" into an equally honest future. It also meant getting really fucking good at their instruments.
If there were any concern that Turnover might be outpaced by Myself in the Way's rhythmic ambitions, entering the studio in spring 2021 made it clear what a boon pandemic boredom had been for Casey's and Dempsy's playing. With the latter newly contributing on keys, not to mention the addition of guest vocalists such as Turnstile's Brendan Yates, Austin says the album is Turnover's most collaborative by far. Crucially, all this shared spit freed up the frontman's longtime songwriting assistant, producer Will Yip. Whether layering strings or fiddling with synth tones, Yip's sonic inhibition set an anything-goes studio vibe, equal parts  "surgical" and sound-drunk "symphonic." It's no surprise the band's usual "intensive sessions'' started feeling like an extended vacation.
"I think anytime that legitimate growth is happening, there's a bit of sadness, as well," Austin says, pinning down why this, "the most joyous era in the band's lifetime," ended up producing music of such weary, enigmatic tonality. He perks up especially when I marvel at the gloom-tinged boogie of "People That We Know," a song that evokes the feeling of being a little too high at the very adult holiday party. "That one is a 20-sided die," he gushes. "It makes you want to dance, but it's also weirdly fucking sad."
As dimensional as Myself in the Way is, it's no knock to say the album won't compare with its accompanying tour. The band members are digging into their catalog, maxing out their playtime, and conceptualizing their upcoming winter dates to be a "fully representative celebration" of the radically distinct musical sensibilities coming to gather under Turnover's decade-strong tent. And even if the Peripheral Vision era does notch the most points on the setlist leaderboard, emo obsessives shouldn't get too cozy. The band didn't level up as musicians just to play their most iconic songs the exact same way they did eight years ago. And if you find yourself preemptively offended at jam band-style renditions, there's always the DIY option.
"It means the world people are still out there demanding more Peripheral Vision, truly. What made me write that album, really all our albums, was listening to bands and saying I want to hear more of that," Austin says. "So to you, I say, wanna hear more? Start a band and make music like that for yourself."