The Grammys Fit In Almost Every Hip-Hop Song Ever In Explosive Tribute
Fifty years of history, brought to you by Missy Elliott, LL Cool J, Flavor Flav, Lil Baby, Salt-N-Pepa, Method Man, Busta Rhymes, and dozens more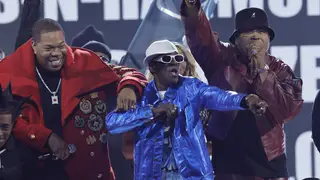 August 2023 marks the 50th anniversary of hip-hop, which began humbly in The Bronx in 1973. It's never too early to get that particular party started, and boy, the Recording Academy wasted no time at all. On Sunday night (February 5) at the Grammys, with help from some of the genre's absolute heavyweights of the past half-century, the stage at the Crypto.com Arena in Los Angeles was transformed into 1520 Sedgwick Avenue, the venue where hip-hop was born.
In a decades-spanning medley of rap tunes that have defined generations, dozens of artists — from early architects like DJ Grandmaster Flash to later commercial behemoths like LL Cool J to boundary-pushing visionaries Public Enemy, Busta Rhymes, and Missy Elliott — hip-hop got an early birthday celebration. It was awesome.
Before the medley, LL Cool J introduced a brand-new honor, the Dr. Dre Global Impact Award,  presented in collaboration with the Recording Academy and the Black Music Collective. Its inaugural winner was its namesake: Dr. Dre, who shouted out 2023 as the 50th anniversary of hip-hop in his acceptance speech and traced his own path in the genre.
Dre himself didn't rap during the tribute. Instead, LL kicked it to The Roots's Black Thought, who was backed up by his group (most notably by co-curator of this performance, Questlove, on drums as always). Black Thought began with a history lesson outside none other than 1520 Sedgwick Avenue. But given the blink-and-you-miss-it pacing of the performance, the action quickly moved to Grandmaster Flash and the Furious Five's "The Message" — one of the most famous, iconic, and impactful hip-hop tracks of all time — and then to Hollis, Queens for Run-DMC, back in their trademark Adidas. (DMC even sported a Beastie Boys shirt.) LL, naturally, rocked a Kangol hat and carried a boombox.
The revue moved to fellow early pioneers Salt-N-Pepa next and then to Rakim before an unexpected Public Enemy reunion, featuring both Chuck D and Flavor Flav. And Flav, bedecked in his massive clock chain, actually rapped! It felt very novel to see in the year 2023! Heartwarming stuff.
After some flowers and light psychedelia for De La Soul's Posdnuos, the action moved into more aggressive terrain with an appearance from Ice T, proving without a shred of doubt that he's not just an iconic tweeter and long-running TV cop, but an iconic MC in his own right. He had his moment! And Queen Latifah had hers as well, done up in a glittery outfit with her hair so high it might as well as touched heaven. "U.N.I.T.Y." was the song, and unified was the moment. After a nice little transition into Wu-Tang Clan's "Method Man" — featuring a very proud Method Man — Big Boi came out to a few censored words, which was bound to happen. Pharrell in bejeweled glasses loved to see it. You, presumably, also loved to see it, as well as loved to see Questlove behind the kit for this whole enterprise.
One of the coolest parts of this entire spectacle, by the way, was how the loose chronology followed made each big moment feel perfectly celebrated without being exactly expected. When Busta Rhymes broke onto the stage with Spliff Star, it felt like 2001 all over again. "You think I came to play with y'all?" he inquired, and folks, he didn't! There was plenty of room to fast-forward to 2011 so Busta could deliver the breakneck verse that will be in the first line of his obit: "Look at Me Now" (a.k.a. the fast rap one). But even such a sweat-inducing display of hip-hop prowess was just a primer for for another great arrival: Missy Elliott, who made the stage her own private Video Vanguard moment again thanks to dancers and space suits and looking like the future, as always, even performing a tune from the past.
Once Queen Latifah personified the genre ("Hip-hop will live everywhere!"), it felt appropriate to take that genre right back into the club. And Nelly was just the man to do it, thanks to "Hot in Herre." And The Lox waved a Ruff Ryders flag. And Lil Baby appeared iced out in blue and with a voice frosted with Auto-Tune, bridging the gap between then and now.
But man, I tell you: GloRilla! How could you have a tribute to hip-hop without the song that, more than any other, made me personally lose me voice in 2022 from yelling it in the car? She appeared for none other than "F.N.F. (Let's Go)," her breakout viral hit that has since taken her on a rocket-ship ride. What a cool moment! Especially since it was immediately followed by this instantly meme-worthy appearance from Lil Uzi Vert. Jay-Z, in the front row tables below the stage, truly had the time of his life seeing this whole thing unfold.
There was more, and in the coming days, there will be plenty of content analyzing each performer specifically, their moment, who was left out, who didn't get their shine, who totally stole their moment, and the like. But right now, let's exhale. What a ride that was.
Earlier in the night, Kendrick Lamar took home the Grammy for Best Rap Album for his 2022 double LP, Mr. Morale & The Big Steppers, and he made sure to nod to the storied history of hip-hop in his acceptance speech. "Going back and thinking about where I started with rap and how far it's came, I would like to thank the culture for allowing me to evolve," he said.
In another 50 years, Kendrick will be 85. For context, Smokey Robinson — who performed earlier at the show tonight — is 82. It could happen, man. Hip-hop centennials only come around once every 100 years.