Here's How This Season Of 'Family Vacation' Ended (Tequila And Strip Club Included)
It was a 'bonding experience' for the 'Jersey' crew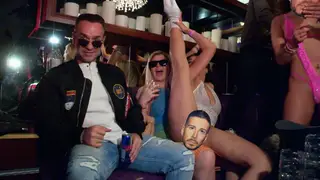 The Jersey Shore roommates are finally keeping the peace... and all it took was a strip club.
Although the gang's San Diego family vacation "was a little messier than normal" (to put it mildly, Mike), tonight's finale saw everyone coming together in celebration of Vin Day, which culminated with an Italian cheat meal (carbs are here!) and the roommates making heartfelt toasts to the keto guido of the hour.
"This is so sweet and so touching," said the Staten Island native, all up in his feels. "Even though today I had to throw myself this party, hearing everybody say something nice about me is honestly unbelievable." 
After endless plates full of pasta, it was time to turn up and live their best lives. Enter JWOWW's happy place: the strip club.
"I don't know if Zack's ready to see that side of me, but at the same time, I drank like 17 tequilas, so I am ready," she said.
The booze, dollar bills, and giant photos of Vinny's face then flowed, putting a ratchet end to a Deena-approved evening and cementing the fact that strip clubs have long served as "a bonding experience" for the fam.
Except the night wasn't quite over for Angelina, who swung by Vinny's hotel room only to catch a glimpse of the roommate she once smushed her roomie in his boxer briefs, resulting in an argument over whether or not his d*ck was "growing" in her presence.
"You think I would sit there in front of you getting a boner? Trust me, I'm a stripper -- I'm in my underwear all day every day," he said. 
Fast forward to the morning after, at which point it was time to head back to Jersey. Summed up Deena: "All families fight. The fact that we're able to come together and then move on from it shows growth." 
Jenni's observation? "I feel like we kind of have this conversation at the end of every vacation." 
And while most folks felt ready to be home, Angelina found herself "a little sad to go back home to reality" (cue her impending divorce) -- although grateful for her "amazing group of friends."
Will the fam's warm and fuzzy feelings toward each other last? Stay with MTV News for all things Jersey Shore: Family Vacation!