Here's A Million Dollars' Worth Of Financial Advice From Jay-Z
We spoke to a financial analyst about how to implement Hov's teachings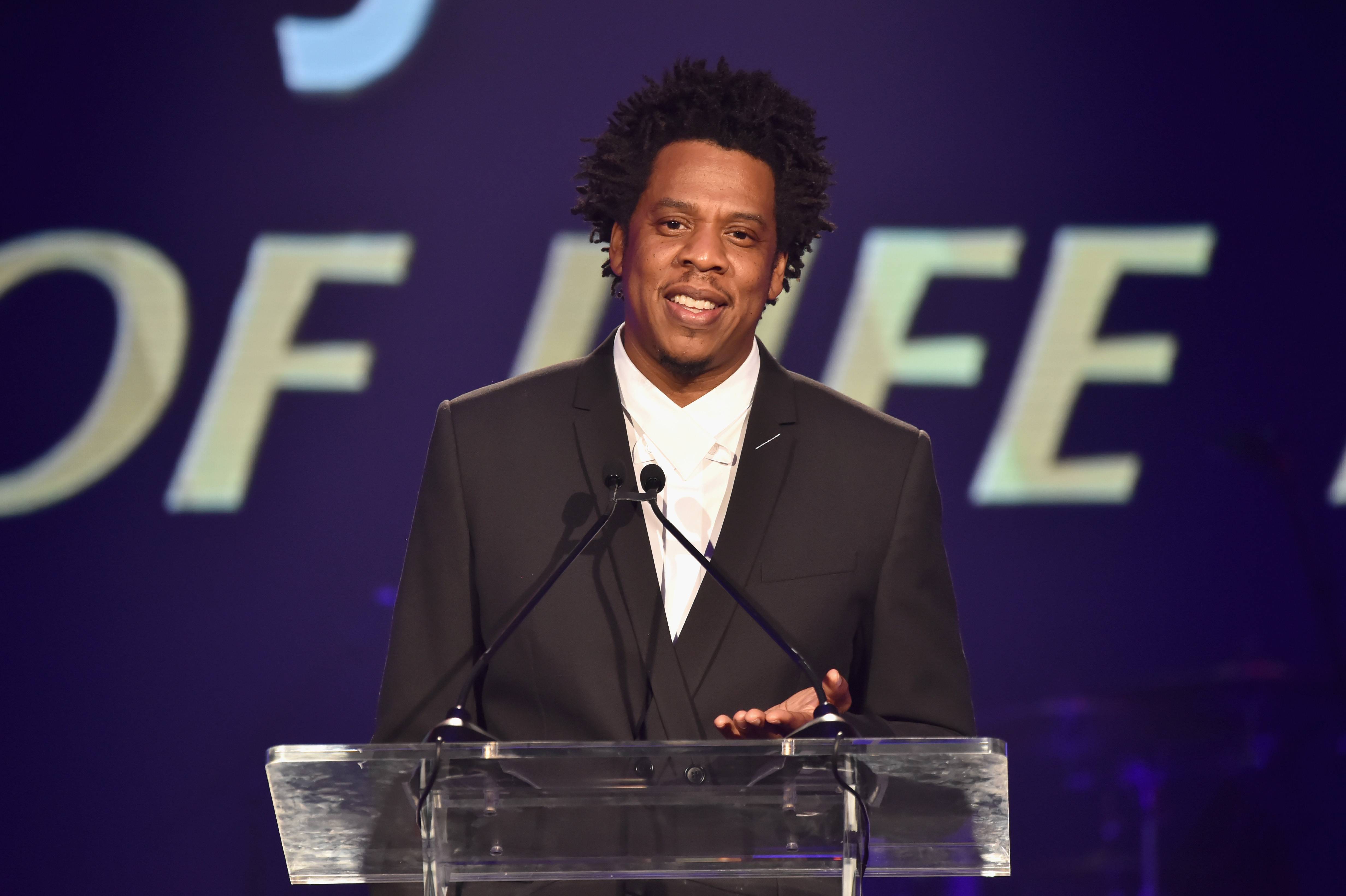 Jay-Z has been dishing out "a million dollars' worth of game for $9.99" through his music since the days of his debut studio album Reasonable Doubt in 1996. His story is legendary. After no record label would give him a deal, he created Roc-A-Fella Records in 1995 (with co-creators Damon Dash and Kareem Burke) and began a rapid ascent, becoming a mogul and taking hip-hop's throne by force.
Since Reasonable Doubt, he's released 12 more albums that have gone platinum. He's remained at the head of rap's table for more than two decades and his legacy has been solidified through both his actions in the booth and out of it. Aside from world-weary rhymes delivered with vivid imagery, Jay made it a mission to impart philosophical and financial wisdom as well. He's just that savvy.
For this 50th birthday, Jay's entire catalog returned to Spotify from its previously exclusive home of Tidal, the streaming service he co-owns. Through it, we see his journey in full: the labels, the long-term investments, the legacy — all worth more than an estimated $1 billion.
That journey reveals some great financial tips, too; below, we've picked out some of the best ones and explained how he implemented his own advice. With a little context from financial coach Latasha Kinnard (whose Godesté enterprise specializes in "financial empowerment for women"), here's how you, too, just might be able to stack your own millions following Jay-Z's teachings.
Key Financial Advice: "Show them how to move in a room full of vultures / Industry is shady, it needs to be taken over"
What It Means: Create your own financial success
How Hov Lived It: After getting turned down by numerous labels, Jay-Z started his own independent label, Roc-A-Fella, in 1995 so that he could release his first album, Reasonable Doubt and take his music to the next level. It's here that he started his takeover of the industry, commanding the space by the early 2000s thanks to a roster that included Kanye West, Cam'ron, and more — and it never would have happened if he hadn't taken that first step.
Latasha says: "Don't get resigned or complacent with how things are. Don't wait on others to do what you can do yourself. Because no matter how powerful an institution is, you can still position yourself to take over and do it better. Jay didn't get to this place overnight. He had been planning, stacking, and building relationships for years."
"On to the Next One" (2009)
Key Financial Advice: "I don't get dropped, I drop the label / World can't hold me, too much ambition"
What It Means: Don't stick in toxic situations; bet on yourself
How Hov Lived It: Things went sour with Roc-A-Fella's co-owners, so Jay moved to Def Jam as the CEO in 2004.  Def Jam had already owned half of Roc-A-Fella after Jay sold half of the company to the label in 1997 instead of signing with them after the success of Reasonable Doubt. Jay's 2004 gamble resulted in Roc-A-Fella's co-owners selling their interests in the label, ultimately leading to Jay taking control of both of the companies. After leaving Def Jam in 2007, Jay-Z founded Roc Nation, an entertainment company that encompasses not just music, but sports and philanthropy as well, and is estimated to be worth more than $75 million today.
Latasha says: "This isn't just about money for him. He's asserting his financial dominance and his ability to create his own reality."
"I Got The Keys" ft. DJ Khaled and Future (2016)
Key Financial Advice: "N---as always askin' me the key / Until you own your own you can't be free / Until you're on your own, you can't be me / How we still slaves in 2016?"
What It Means: Retain (or obtain) ownership over your bankable intellectual property
How Hov Lived It: Jay-Z frequently touches on the ways artists get jerked around by music labels in his music. It's a topic he's intimately familiar with, considering he's started two of his own. The one mistake he made along the way: losing ownership over his masters when he signed his deal with Def Jam. He negotiated the return of them when he became the president of the label in 2004 and got control of them in 2014. He also made a deal with EMI for his publishing rights that came back to him in 2014. How much is that worth? Forbes estimated in 2010 that it would be worth $5 million per year. In 2019, Forbes estimated that it's valued at $75 million, with him getting near 1 billion streams per year.
Latasha says: "When you don't own the jobs or assets that are the source of your livelihood, you'll forever be at the mercy of someone else. The more we own our assets (clothing lines, hair care products, neighborhoods, barber shops, etc.) the more we control our lives."
Key Financial Advice: "Turn that 62 to 125, 125 to a 250 / 250 to a half a million, ain't nothin' nobody can do with me"
What It Means: Double, triple, and quadruple your money with smart investments
How Hov lived it: Jay-Z went from living in poverty in Brooklyn's Marcy Projects to becoming hip-hop's first billionaire. He's more than doubled, tripled, and quadrupled his money over the course of his career — and he couldn't have done that without some smart investments. He launched his clothing line Rocawear as Roc-A-Fella was peaking in 1999 and sold it for $204 million just eight years later. He has a stake in Uber that's worth $70 million, another in champagne company Armand de Brignac that's estimated at $310 million, and much more. Jay-Z purchased the streaming service Tidal in 2014 for $45 million and now it's worth an estimated $100 million.
Latasha says: "Jay learned the value of flipping money early in his career. If you dedicate yourself to the art of turning a little into a lot, the world is yours for the taking. Your job is not simply making money, but having every dollar you earn multiply."
"N---as In Paris" featuring Kanye West (2011)
Key Financial Advice: "The Nets could go 0 for 82 / And I'd look at you like this shit gravy"
What It Means: Make the best moves for your pockets, no matter how they appear from the outside looking in
How Hov Lived It: Not all of Jay-Z's investments looked as cool as a clothing line and champagne company. In 2004, he became part-owner of the New Jersey Nets, paying $1 million for one-fifteenth of a percent of the team, establishing him as holding a minority interest. They moved to Brooklyn, his hometown, in 2012. They didn't end up being that good, with Jay actually taking a loss in 2013 when he sold it for $500,000 to former basketball player and Brooklyn Nets coach, Jason Kidd. (Even then, it was only worth $350,000, so technically, he made $150,000 more he should have.) But getting rid of his association with the team helped in other, more financially important ways: It cleared hurdles for his Roc Nation sports agency to sign future Nets players like Kyrie Irving and Kevin Durant.
Latasha says: "There are levels to this. The players may lose; the team may lose; but as an owner, there are so many more opportunities to win."
"The Story of O.J." (2017)
Key financial advice: "I bought some artwork for one million / Two years later, that shit worth two million / Few years later, that shit worth eight million / I can't wait to give this shit to my children"
What It Means: Be patient as your investments accumulate value
How Hov Lived It: Jay-Z and Beyonce love to indulge in art — see the cover for their 2018 collaborative album, Everything Is Love — and they incorporate their passion into their financial portfolio. Jay talks about owning artwork that he bought for $1 million on "The Story Of O.J." Today, it's estimated to be worth at least $70 million by Forbes. But instead of selling it for a massive $69 million profit, Jay-Z's going to hold on to it so that his children, Blue Ivy, Rumi, and Sir, can watch it become even more valuable. Playing the long game can go very well.
Latasha says: "Jay understands two things: asset appreciation and legacy building. It's not just about what you have no; it's about passing down assets through your bloodline. Black buying power is $1.2 trillion, but how much of that do we preserve for future generations?"
"Apeshit" with Beyoncé (2018)
Key financial advice: "I said no to the Super Bowl, you need me, I don't need you / Every night we in the end zone, tell the NFL we in stadiums too"
What It Means: Know your worth and stand for what you believe in
How Hov Lived It: In 2017, Jay-Z turned down the chance to perform at the NFL's Super Bowl LII to stand in solidarity with Colin Kaepernick after it was speculated that the league blackballed him for protesting against police brutality. Jay's bar on "Apeshit" references the fact that he'd be bigger for the NFL than they would be for him at this point in his career; he'd already performed at stadiums around the world. In 2019, in a bit of a full-circle moment, the NFL announced a partnership with Jay that will ensure that the rapper and Roc Nation will help "to enhance the NFL's live game experiences," in part by advising on its Super Bowl performers, and "to amplify the league's social justice efforts.".
Latasha says: "Jay-Z may have had a seat at the entertainment table, but now he's building something much bigger and he's sending a message: He's not an industry slave. When you don't rely on the hands of other people to feed you, you can move and build at your own discretion."
"Family Feud" ft. Beyoncé (2017)
Key financial advice: "I'll be damned if I drink some Belvedere while Puff got CÎROC"
What This Means: Participate in the economy you want to see grow
How Hov Lived It: One of the themes on his 13th album 4:44, aside from maturing as a man, is Black excellence. In "Family Feud," Jay-Z references Diddy twice; first, saying that it's better to have multiple Black billionaires than being alone in success ("What's better than one Black billionaire? Two") and, second, this particular line. Diddy gets 50 percent of the company's proceeds as part of his brand ambassador deal, and Jay wants to support his financial gain every step of the way. This camaraderie and sense of togetherness helps everyone win.
Latasha says: "Black buying power may be at 1.2 trillion, but it only stays in our community for 6 hours. From natural hair care to hip-hop, Black people are largely financial consumers of their own culture, which means that when we buy, the money is likely leaving our community. Ownership and intentional spending matter. Buying black and buying local allows us to empower our communities, increase our ownership and secure our own freedom without asking for permission."