Shawn Mendes's 'In My Blood' Is His Most Vulnerable Video To Date
A stormy, one-take depiction of anxiety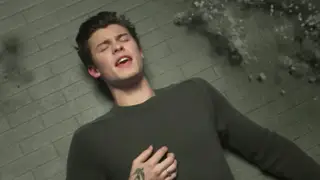 If even listening to Shawn Mendes's vulnerable "In My Blood" was a heart-wrenching experience for you, then just wait until you see the track come alive in the newly released video.
The Jay Martin-directed clip arrived on Tuesday (April 24), and it centers on a single shot of Mendes lying on a brick floor, barefoot, stone-faced, and paralyzed. As he sings about the walls caving in, he weathers a series of literal and figurative storms — rocks tumble down around him, then a snowstorm and a rainstorm sweep him up. Just when things seem dire for poor Shawn, the sun peaks through the clouds and the bricks under his head give way to a lush meadow of grass and flowers.
Mendes has said that he wrote "In My Blood" about his struggle with anxiety, and the video's hopeful conclusion suggests there's a happy ending after the storm.