Desperately Seeking Redemption: Can Jenna Claw Her Way Back Into 'Final Reckoning'?
The 'Challenge' favorite got the boot before the game even really started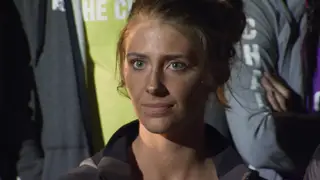 The golden child of The Challenge has been reduced to ashes, and Jenna — who was once a lock for any game's final mission — has been ousted with her Final Reckoning partner Jemmye before the game even really began.
So what the hell happened, and will she be able to claw her way back into the competition?
On tonight's premiere of the series' 32nd season, TJ welcomed a group of TV stars — Real World alums, Big Brother castoffs and even a Vanderpump Rules personality — to compete for some huge money. And for the first time, in a game of winners-take-all, $1 million would be up for grabs.
Of course, there was a catch en route to the trophy: Teams would have to work in pairs — each, alongside his or her biggest enemy — in order to win. And before the game even started, TJ alerted half of the contestants that by the day's end, four contestants — two teams — would be gone. Like, gone-before-they-even-claimed-a-bunk-in-the-house gone.
To officially earn entry into the game, one player from each partnership would have to sprint down to a makeshift graveyard and dig up their second halves. The twist? The buried contestants were a mystery to the diggers and had to relay their burial sites via voice-modulated walkie talkie conversations.
While Zach put up a huge showing and managed to unearth his partner Amanda (much to his chagrin…) in the blind of an eye, his girlfriend Jenna struggled to find her partner. When the dust had cleared, and 12 teams had officially been made, Jenna's worst fears were confirmed: She and her partner Jemmye, and Britni and Britni's partner Chuck, were both immediately ousted to the Redemption House.
"We didn't even make it to the f*cking house. I'm so embarrassed," Jenna lamented. "I keep getting worse and worse each season."
Still, as she pointed out, she is a previous Redemption House winner and managed to claw her way back into Dirty Thirty by fighting tooth and nail, and knocking several opponents out in "Man Overboard."
"It wasn't as easy as it looked, though, so I'm nervous about what this one's gonna be," Jenna said.
TJ compounded her worries when he said the eliminated players (Jozea and Da'Vonne were now among them thanks to an on-the-spot elimination executed by Amanda and Zach) that this Redemption House would be more difficult than the previous installation, and not every team would get a chance to return.
Obstacles aside, Jenna's Challenge resume remains pretty impressive — she's one of few who can say she's lasted until the final missions of her first three outings. And, if she and Jemmye do make it back into the game, they might have a leg up — Jenna observed that they're true complements and that Jemmye can politick in a way that she, herself, has never been able.
What do you think — will Jenna be able to pull another Redemption House comeback out of her bag of tricks, or will she have to take her Final Reckoning elimination on the chin? Share your comments, and be sure to tune in to the next episode Tuesday at 9/8c!