Bop Shop: Songs From Tierra Whack, Vaultboy And Eric Nam, And More
Including the eerie TV score we can't get out of our heads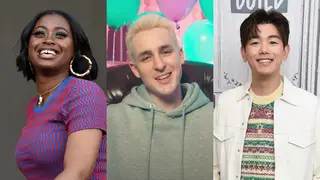 The search for the ever-elusive "bop" is difficult. Playlists and streaming-service recommendations can only do so much. They often leave a lingering question: Are these songs really good, or are they just new?
Enter Bop Shop, a hand-picked selection of songs from the MTV News team. This weekly collection doesn't discriminate by genre and can include anything — it's a snapshot of what's on our minds and what sounds good. We'll keep it fresh with the latest music, but expect a few oldies (but goodies) every once in a while, too. Get ready: The Bop Shop is now open for business.
Cristobal Tapia De Veer: "Aloha!"
I have absolutely no idea who is in the coffin on HBO's excellent, anxiety-provoking The White Lotus. And as much as I can't wait to find out during Sunday's finale, part of me is bummed it's the last time I'll able to groove the hell out to Cristobal Tapia De Veer's masterful, blood pressure-raising score — maybe ever, even if a second season is now a sure thing. "Aloha!," the series theme, is impossible to ignore: a mysterious, tribalistic bouillon of sexual intrigue and impending doom that somehow also sounds like a day at the zoo. You could call it a cosmic gumbo. I call it the terrifyingly addictive TV slapper of the summer. —Patrick Hosken
Charlie Hickey and Muna: "Seeing Things (Muna's Version)"
Emerging singer-songwriter Charlie Hickey just signed to Saddest Factory, Phoebe Bridgers's record label, so it was only a matter of time before he collaborated with his new labelmates from Muna. This reimagined version of "Seeing Things," a hauntingly vulnerable ballad off Hickey's debut EP Count the Stairs, showcases just as much emotional depth, dance beat and all. Stirring vocal harmonies from Muna's Katie Gavin are a lovely bonus. —Sam Manzella
"Medlock Road" is Kayem's autobiography and a song which many first-generation Americans will relate to. The Chicago-based rapper transforms his pain into beauty and resilience as he recounts his childhood in Kentucky as a Libyan-American and the son of a political dissident in exile. "I wanted to start with my story," Kayem wrote on Instagram. "I want this to be a foundation." "Medlock Road" has proven Kayem to be a gifted storyteller, and we can't wait to see what he does next. —Farah Zermane
Vaultboy ft. Eric Nam: "Everything Sucks"
Everything sucks — just kidding! With the re-release of his viral TikTok hit, bedroom-pop star Vaultboy has remixed "Everything Sucks" with Korean-American superstar Eric Nam, bringing the song to new heights and new audiences around the world. The use of heavy synths and bass in the melody works perfectly in tandem with the track's poignant, yet humorous lyrics, creating the song of Gen Z's wildest dreams. Accompanied by a newly shot music video featuring both artists vibing out and having fun, "Everything Sucks" makes audiences want to follow suit and "forget [the] bad days and be OK." For a song that runs just about two minutes, it sure packs a strong punch. —Sarina Bhutani
Mariposa:"Pastorita Mariposa"
In this fever-dream visual that recalls both Charlie Kaufman's Anomalisa and the familiar drabness of a dead-end job, Colombian rapper Mariposa lays it all out: This is her show now, and she's breaking out. Musically, "Pastorita Mariposa" bounces and recoils like a rubber band, offering plenty of chances to lose yourself in the in-between. "This song is about being stuck in life," she says. It sounds like the ultimate escape. —Patrick Hosken
Everyone has their bad days, insecurities, and inner demons. But Canadian singer-songwriter Tyler Shaw is here to offer you support on this uplifting pop track. "Don't waste time on your demons / Find that space you can breathe in / Not too long 'til it's over," he sings. "Rest your head on my shoulder / When we're broken and blinded / We all need someone to guide us home." He reassures that you're not alone in your struggles and that you are worthy of being loved. —Athena Serrano
Michaela Jaé: "Something to Say"
Michaela Jaé is having quite the year. Not only did she bring it to the ball every week on the fantastic final season of Pose, but she finally snatched an Emmy nod for her role as Blanca on the FX series, becoming the first trans actress to be nominated in a lead acting category. She already had us in tears with her singing on Pose, but now she's bringing the party with her joyful new single, "Something to Say." You can't help but smile while listening to this jubilant disco-tinged track, but be warned: This song will have you resisting the urge to skip down the street. Talk about 10s, 10s, 10s across the board! —Chris Rudolph
Orla Gartland: "You're Not Special, Babe"
Orla Gartland gives a salute to the universal disappointments that secretly unite us on this dreamy cut from her forthcoming album Woman on the Internet, out August 20. "Life is short until it's not / Honestly, it's kinda long / And it takes a while to come around," she muses, oozing the kind of fatalistic confidence that comes after navigating the chaos of your twenties. Though its title sounds like a kiss-off, the Dublin-born songwriter's lyrics reveal it's deceiving. She recognizes how we're all connected by the experience of going "from heartbreak to happy to heartbreak." Bonus points to Gartland's too-cool-to-be-cool visual, which wins the award for most effective use of clown makeup I've ever seen. —Carson Mlnarik
Madonna: "Borderline (Tom Moulton Mix)"
During these dog days of summer, avoid the air-conditioned indoors, lean into the season, and sweat it out to this unreleased mix of "Borderline," re-worked by Tom Moulton, the legendary original disco remixer himself. The intro sprinkles the twinkly maybe-DX7, maybe-Rhodes piano generously across the crisp hi-hats, taking its time to build to a sumptuous, club-friendly arrangement of this timeless Madonna single. I've always thought the chords and melodies of this song to be pretty gorgeous, so I'll take nine minutes of it any day. —Adam Murphy
Tierra Whack: "Walk the Beat"
A rumbling volcano of house music that never quite erupts, the latest from Tierra Whack finds the chameleonic artist repeating "fashion shows, fancy clothes" as a J Melodic beat provides enough runway for, well, the runway. —Patrick Hosken