Taylor Swift And Rihanna Were Adorable Newbies At The 2008 Grammys
They were first-time nominees 10 years ago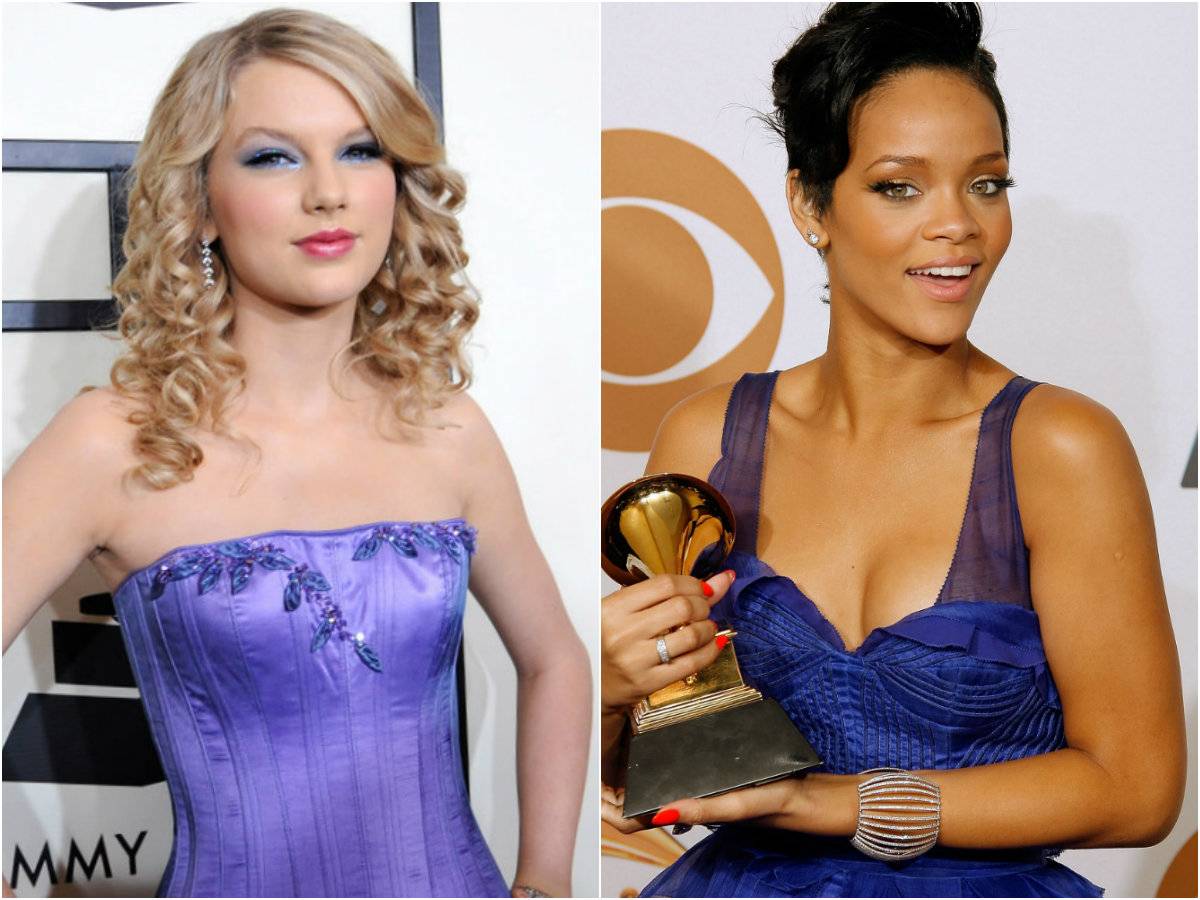 This year, Taylor Swift and Rihanna earned their 31st and 33rd Grammy nominations, respectively. Both women have had long, storied histories with the awards show — giving us memorable performances, speeches, and crowd antics (Tay's dancing and Rih's flask-wielding, for instance) — and it all dates back 10 years ago.
At the 50th Annual Grammy Awards on February 10, 2008, both Swift and Rihanna hit the red carpet as adorably excited first-time nominees. Only one walked away with a golden trophy that night, but they both kicked off a decade-long Grammy domination that continues into 2018. Ahead of this year's show on Sunday (January 28), let's look back at their momentous Grammy appearances in '08.
On the morning of December 6, 2007, Swift was up bright and early to announce the 2008 Grammy nominations live. To her pleasant surprise, she got one nomination herself, in the coveted (and all-female!) Best New Artist category, alongside Amy Winehouse, Feist, Paramore, and Ledisi. Cue one of the O.G. iterations of her now-signature "surprise face." In fact, in the video below, Swift reacts to her Grammy nomination by hugging Dave Grohl and later exclaiming, "I can't believe I'm nominated for a Grammy. I can't believe that happened!"
It was a huge moment for the then-17-year-old singer-songwriter, who had taken the country world by storm with the release of her self-titled debut album and singles like "Our Song" and "Teardrops on My Guitar." Though she had yet to become the crossover pop idol she is today, she was already showing us the first signs of her blinding star power.
Two months later, Swift made her debut at the Grammys wearing the early '00s prom dress of your dreams: a purple gown with a strapless corset top. Remember: This was peak Old Taylor, when she was smitten with glittery, icy makeup and barrel curls. On the red carpet that year, Swift gushed about her custom-made dress and, ironically enough, named Kanye West as the person she was most excited to see that night (lol).
Swift lost the Best New Artist prize to that night's big winner, Winehouse, but her Grammy legacy was only just beginning. Since then, she's racked up 31 nominations and taken home 10 awards. This year, she's nominated in the Best Country Song category for "Better Man," the song she wrote for Little Big Town, as well as Best Song Written for Visual Media for her Fifty Shades Darker collab with Zayn, "I Don't Wanna Live Forever." Not a bad reputation to have.
Rihanna's debut Grammy appearance was technically in 2007, but she didn't attend the ceremony as a nominee until 2008, when she really got her chance to shine (bright like a diamond). That year, the then-19-year-old earned a whopping four nominations: Record of the Year and Best Rap/Sung Collaboration for the Jay-Z featuring smash "Umbrella," Best Dance Recording for "Don't Stop the Music," and Best R&B Performance By a Duo or Group with Vocals for the Ne-Yo collab "Hate That I Love You."
"Umbrella" ended up winning the Best Rap/Sung Collaboration prize, and upon hearing her name (uttered by presenter Taylor Swift, no less), she gave Jay-Z a big bear hug and dragged him onstage. Wearing a short cobalt blue dress and rocking a razor sharp pixie cut, she thanked a slew of friends, family, and collaborators before shouting out her native Barbados. During her speech, Jay interrupted a couple times to "translate" what she was saying, which Rih laughed about backstage. In an interview after her big win, she said, "He is silly! Oh my gosh. He was trying to translate because he has this ongoing joke about people not being able to understand me because of my accent. … It was all good fun."
Not only did she take home her first Grammy that night, but Rihanna also performed at the show alongside reunited funk and soul band The Time. Rih crashed their medley to perform "Umbrella," then slipped into "Don't Stop the Music," wearing a dress with a feathery corset that can only be described as "ostrich chic."
Since then, Rihanna's gone on to earn 32 more nominations and take home seven more trophies. This year, she's nominated again in the Best Rap/Sung Collaboration for Kendrick Lamar's "LOYALTY.", and she's performing her hit "Wild Thoughts" with DJ Khaled and Bryson Tiller. Bet on it being another can't-miss spectacle.