Will Cali And Tomas Prove To Be An 'Are You The One' Perfect Match?
The feels are there, but the Truth Booth awaits…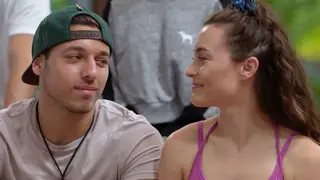 Cali may have put her Are You the One? focus on Brett for the better part of this journey -- but her attraction dwindled after a big disagreement (remember, she drunkenly accidentally called him Zak), and then she didn't want to sit with him at a Match Up ceremony after he called out her name. Now the "emotional rollercoaster" is chugging along -- and feeling Tomas.
The Cali/Thomas pairing isn't exactly out of the blue: They went out during Week 1 and had a fine time together outside of the large group environment.
"I still like her. What we connected on is still there, and it's not gonna go away," the Argentinian reflected about their initial adventures on the show's most recent episode. "There's something there."
While Cali confessed that she may have been quick to judge Tomas because he had never been in a committed relationship, the pediatric nurse manager admitted that she was maybe wrong to jump to conclusions and vowed to be "open to the possibilities" with him.
"I'm a little scared because I like him a lot, and I don't want to get hurt," she said. "We'll see what happens, but I'm f*cking ready for the rollercoaster."
And she buckled up for the ride: Tomas "followed his heart" at the Match-Up Ceremony and selected Cali -- and for her part, she was happy about it. The house got three additional beams (not including confirmed PM Maria and Shamoy), and Cali made a sharp and strategic observation.
"There's four beams tonight; there's only two couples that repeated," she stated. "Thomas and I, and Morgan and Zak. That means that only one of us is a couple."
While Tomas was convinced that he "already figured it out" and they were the scientifically compatible pair, the duo went to the only solo suite Boom Boom Room and things didn't go exactly to plan.
Now, awkward bed situation aside and going back to Cali's theory, do you think Cali and Thomas are the PM? Or is it Zak and Morgan? Tell us your thoughts, then catch another AYTO Wednesday at 10/9c.