Jennifer Coolidge Is Officially A Comedic Genius At The 2023 MTV Movie & TV Awards
The 'White Lotus' star will be the latest recipient of the Comic Genius Award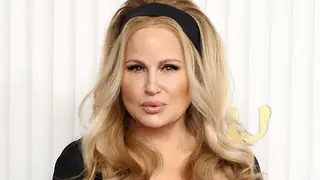 One of the funniest character introductions in the film Best in Show is for Sherri Ann Cabot, the trophy wife of a geriatric millionaire. When she attempts to list what the unlikely couple have in common, she hits a snag. "We both love soup," Sherri Ann says. "We love snow peas and talking — and not talking. We could not talk or talk forever."
It's not much written out, but delivered by the supernaturally funny Jennifer Coolidge, the scene is absolutely hilarious. That's been the story throughout her decades-long career in Hollywood and on television — a career that will be celebrated at the 2023 MTV Movie & TV Awards.
Coolidge will receive the Comedic Genius Award at the ceremony airing on Sunday, May 7 at 8 p.m. ET/PT. It's a testament to how she can deadpan "we both love soup" with a bat of the eyelashes and a twist of the S — and anchor beloved films like Legally Blonde, A Cinderella Story, and Christopher Guest's mockumentaries as well as shows like The White Lotus — and have so much of what does become enduring memes.
The Comedic Genius Award "honors actors who have made incomparable contributions to the world of comedy, providing a major influence through their work and transforming the genre at large," according to MTV. There's a reason why, when Ariana Grande needed to pull out all the stops for her "Thank U, Next" video in 2018, she knew she had to call Coolidge. No one else could've been the heart of the clip as well as deliver its funniest moment ("Have you ever gone out with someone that had no teeth at all?).
Coolidge's recent work on Mike White's HBO series The White Lotus has brought about a bit of a renaissance in her career. As Tanya McQuoid, she graced both seasons with a presence both flighty and sympathetic — and the industry has taken notice. Accepting her first-ever Emmy in September 2022, she mentioned how she'd just taken a lavender bath before the show that made her "swell up," and onstage at the Golden Globe, with her statue in hand, she had to rest it at her feet for the duration of her speech. "I don't work out, you know?" she said to laughs across the room.
The actress is in good company. Past recipients of the award include Melissa McCarthy, Sacha Baron Cohen, Kevin Hart, Will Ferrell, and last year's winner, Jack Black.
Hosted by Drew Barrymore, the 2023 MTV Movie & TV Awards will air on Sunday, May 7 at 8 p.m. ET/PT. Find the full list of nominees right here.