Ariana Grande's 'Thank U, Next' Video Has Arrived To Break The Internet, At Last
It's so fetch!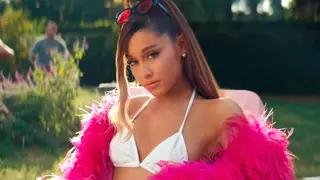 Get in, loser! Ariana Grande's much-hyped "Thank U, Next" video is finally here, and it's everything you dreamed it'd be.
As previously teased, Ari took cues from four iconic early-2000s rom-coms (most ambitious crossover event in history?!): Mean Girls, Legally Blonde, Bring It On, and 13 Going On 30. The Sweetener singer channels Regina George first, flipping through her own "Burn Book" with pics of her exes (the Pete Davidson page, it must be noted, has "i love u always" and "sry i dipped" written on it, as well as the possibly BDE-referencing "HUUUUUGE"). Ariana and her real-life BFFs then channel the Plastics with their own "Jingle Bell Rock" dance, complete with a Kris Jenner cameo as the camera-wielding, pink sweatsuit-wearing Mrs. George.
From there, Ari recreates the tooth-brushing scene from Bring It On with Victorious co-star Matt Bennett, plays with her own dollhouse à la Jenna Rink in 13 Going on 30, then storms Harvard with Toulouse in tow for a Legally Blonde-style finale that proves "Thank U, Next" and "bend and snap" go hand-in-hand. Other notable cameos include Jennifer Coolidge (Legally Blonde's Paulette), Jonathan Bennett (Mean Girls's Aaron Samuels), and Troye Sivan. See it all in the video below.
Ariana's fetch new video arrives during a huge week for her — she premiered a new docu-series, Dangerous Woman Diaries, on Thursday, and she still has the No. 1 song in the country with "Thank U, Next," as "Breathin" continues to climb the charts. What, like it's hard?!