Sigrid Fills The Robyn-Sized Hole In Our Hearts With Her 'Raw' Pop
MTV's PUSH artist talks 'Raw,' 'High Five,' and why honesty is never underrated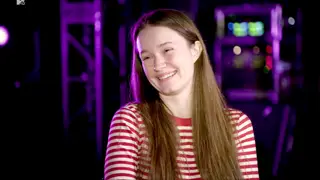 Two years after bursting onto the pop scene with the searing anthem "Don't Kill My Vibe," Sigrid is still churning out unabashedly honest bangers. The 21-year-old can seemingly sniff out (and then call out) bullshit from a mile away — it's there on the kiss-off anthem "Plot Twist," the irresistibly dancey "Strangers," and, perhaps most conspicuously, on the self-assured title track from her upcoming EP, Raw (sample lyric: "I just wanna be pure / You know I'm terrible at putting up a show... I just wanna be raw.")
"Being raw for me is like showing all the good and the bad sides of someone," Sigrid — who is the MTV Push artist for the month of June — told MTV News correspondent Meredith Graves. "I think it's so important having real relations, whether that be friends or love interests, or working, or whatever it is. It's so important to be honest with each other and with yourself, and sometimes being honest is showing sides of you that you may not like."
Exploring the ugly underbellies of relationships is Sigrid's specialty, and — like other Scandi-pop stars — the Norwegian singer gives those tough themes stylish sonic backdrops. In recent years, Scandinavia has become a hotbed for effortlessly cool, boundary-pushing, female-led pop music (see: Robyn, Tove Lo, Icona Pop, etc.), and Sigrid is no exception. But she doesn't just rely on monstrous choruses and sugar-rush hooks to get her message across — her songs have real grit to them, which, according to her, doesn't happen accidentally.
"I always try to catch that nerve when we're recording," she explained. "We often just end up using the demo vocals because that's when you can hear that the lyrics are fresh in mind and that you're singing the lyrics more than you're singing technically. And that's what I love."
Now, with a recent Lorde cosign in her corner, Sigrid is prepping for the release of her Raw EP. The latest taste of the five-track project is "High Five," a candid tell-off aimed at a narcissist: "Ooh, they keep saying you're the best / You ask and they say yeah / Ooh, when you add up all that's left / The high five is all you got."
"This song is about how important real relations are," Sigrid said. "A high five, for me, is a symbol of... when you get high fives, it's superficial. Like, when you only get the positive sides of a relation and not the real, negative sides too. If you only have that, it's not as good as having those real but tough relations."
Check out Sigrid's exclusive, high-energy performance of "High Five" below.