6 Reasons Pauly D Is Made Of Boyfriend Material (Yeah, Buddy!)
TBH, we'd take the 'Family Vacation' DJ in a heartbeat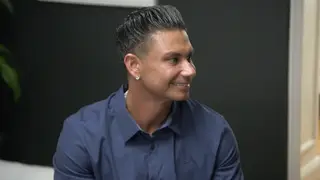 "I'm trying to find my wife," he said during last week's episode. "I don't want my wife to be in a club like that."
His roommates then came up with the grand Bachelor-esque idea to wife up their friend via a citywide search party, and everyone had high hopes — especially Pauly. He just had a few small requirements: "I want them to find me a nice girl. Dark hair, light eyes, tanned skin and a really nice body — not too thin, not too thick. Somebody I want to talk to after we hook up, and that's hard to find."
When the crew came up empty-handed (WHAT?!), they settled for the next best thing — a Funfetti cake and a gal by the name of Victoria Vinny dressed in drag.
To put it bluntly, we were shocked by the gang's lack of success in finding Mrs. Pauly D. He's a definite catch, and here's why:
He's hilarious AF (and seems to be always smiling).
Need a good idea for a coffee-table book? Pauly D one-liners underneath various pictures of his megawatt grin. You're welcome.
Who would have thought that a "small-town boy from Rhode Island" would be wearing his weight in gold chains, spinning in Las Vegas and opening for the likes of Britney Spears? Hey, Pauly knows if you want a Lamborghini (and a few martinis), you better work, bitch.
He knows what NOT to do in a relationship.
Pauly has witnessed firsthand his fair share of lovers' quarrels — all of which could have been avoided.
You'd never run out of hair product.
Pauly packed a bazillion bottles of hair gel for one month in Miami, so you know his style, your style and everyone else's style within a 30-foot radius will always be fresh to death.
You will never have to wonder where the transportation is.
For more Pauly D (YEAHHHH, BUDDY!), catch an all-new episode of Jersey Shore: Family Vacation this Thursday at 8/7c!