What Is Blue Ivy Trying To Tell Jay-Z And Beyoncé At The Grammys?
Blue's Clue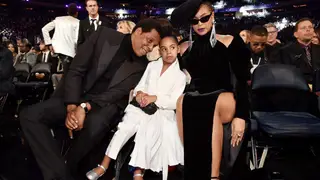 Grammy night wasn't kind to Jay-Z's 4:44. Hov didn't walk away with any awards tonight (January 28). Thankfully, Blue Ivy still demonstrated that the Grammys will always belong to the Carter clan.
Before introducing U2, Camila Cabello gave a powerful speech about the children of undocumented immigrants who are striving to stay in the United States.
"Today, in this room full of music's dreamers, we remember that this country was built by dreamers, for dreamers, chasing the American dream," said Cabello. "I'm here on this stage tonight because, just like the DREAMers, my parents brought me to this country with nothing in their pockets but hope."
When the camera panned to Blue, it was hard to understand what she was exactly trying to convey to Jay and Beyoncé. However, Twitter was quick to get to the bottom of the gestures she made during Cabello's speech.
Maybe, Blue Ivy was so enthralled by Cabello that she needed to let Jay and Bey know that we are Camila-Hive on this side. In this case we support her telling Jigga to hush.
It doesn't seem like Blue Ivy would tell her parents to stop clapping for such an amazing speech by Cabello. So it should be safe to rule this one out.
Jay-Z getting shut out of the Grammys is a modern travesty. There is a very real possibility that Blue wasn't having it with anyone during the award ceremony.
Stay Calm And Only Stan Beyon
This is the new official gif for Beyhive. We only stan Beyoncé. You've all been warned.