Did Migos Take Inspiration From Kim and Kanye's Wedding For Their Latest Performance?
That 1-800-Flowers bill must be crazy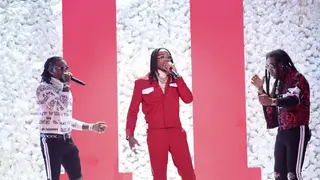 For those that don't remember, Kim Kardashian and Kanye West were married in front of a wall of white flowers in 2014. The estimated cost of the extravagant flowers is $136,000. If Migos spent that much on their Tonight Show performance, it would go down as the baddest and boujeeist flex the show has seen in its 64-year existence.
Culture II at a whopping 24 tracks, is out now and features Drake, Travis Scott, and 21 Savage among other star-studded guest appearances.