Lil Wayne, The Rock Star, Captured In 7 Key Moments
Ahead of his tour with Blink-182, we revisit some of Weezy's collabs with Fall Out Boy, Weezer, and more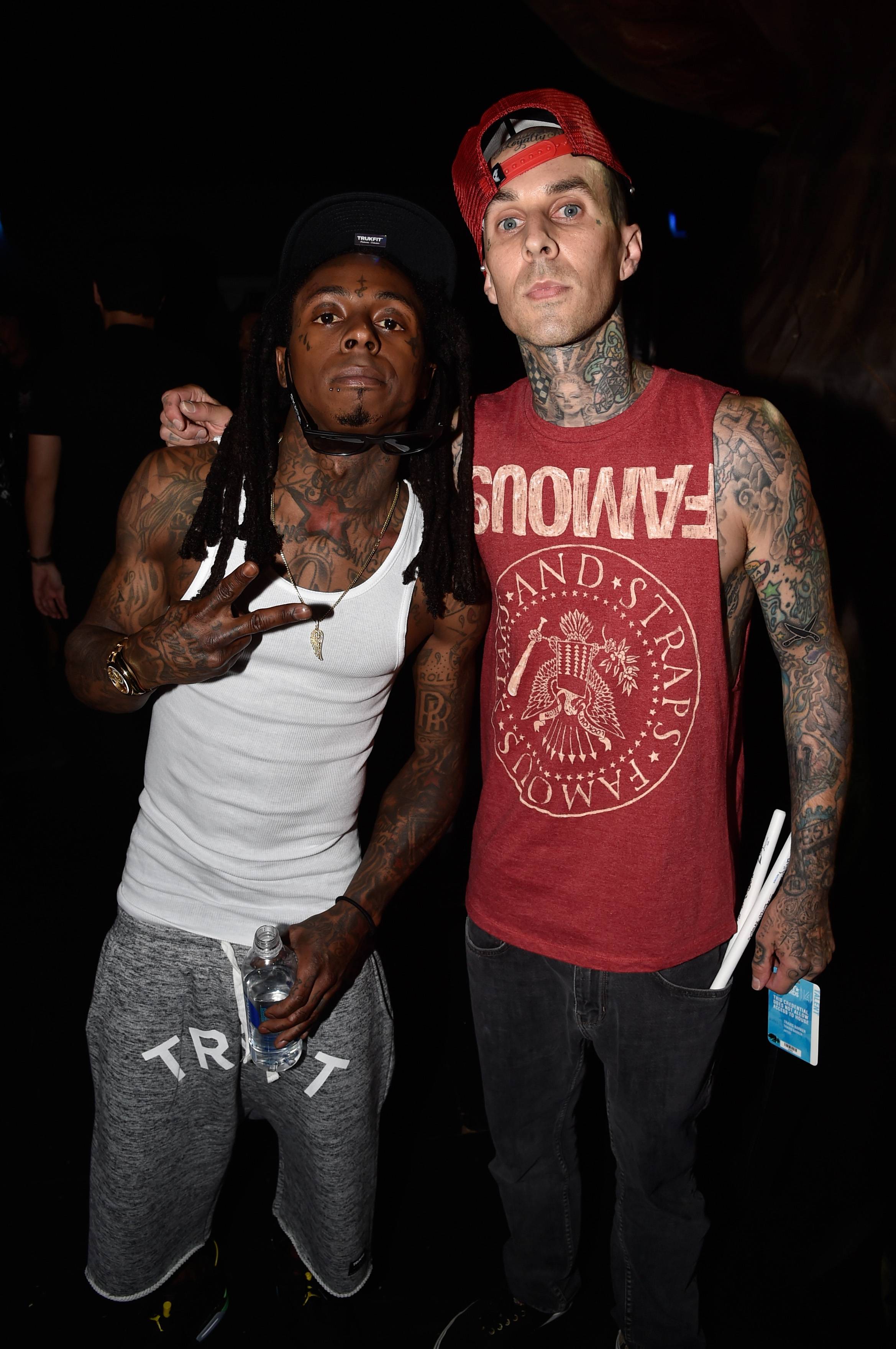 Lil Wayne, one of hip-hop's most spirited and freewheeling auteurs, is set to embark on a nationwide tour with punk-pop fixtures Blink-182 this summer; the fun kicks off this Thursday (June 27) in Columbus, Ohio. While the announcement may have come as a surprise to some, those familiar with Wayne's extensive catalogue know his impressive musical fluidity. The self-professed "best rapper alive" has always oscillated between the traditions of Southern hip-hop (he joined Cash Money Records in 1995 when he was just 12 years old) and the modern-day experimental nature of rap. Throughout his career, he's also worn his affinity for rock — as a statement of both music and fashion — proudly.
Weezy's look, originally considered radical for an urban artist, has since become the blueprint for current emcees to emulate. Donning multicolored dreadlocks and a plethora of face tattoos and piercings, Wayne boasted an alternative aesthetic that has inspired a generation of younger performers like Young Thug, Lil Uzi Vert, and even Post Malone to embrace their most authentic selves. It's a sentiment that has likewise trickled down to discography.
In honor of Lil Wayne being rap's most decadent rock star and his summer plans with Blink-182, here are some of his best career crossover moments that defied easy categorization between "rap" and "rock."
Bar for bar with Birdman on "Stuntin' Like My Daddy" (Rock Remix)
The first single from Lil Wayne's 2006 joint project with his one-time mentor Birdman, Like Father, Like Son, "Stuntin' Like My Daddy," received the rock treatment courtesy of Blink-182's own Travis Barker. The song, which was featured on the deluxe version of the album, still keeps both rappers' signature calculated cadences and florid deliveries. But with the heavy-handed guitar riffs and swelling buildups, Barker's version of "Stuntin' Like My Daddy" boasts the two different genres working in harmony with one another — and it just goes.
A quick cameo on "Party Like a Rock Star"
One of 2007's most notable anthems made the cliché feel universal, thanks in part to Wayne's lithe, albeit brief, appearance on this Shop Boyz remix. Sonically, it contains the rhythmic bombast of a club-ready banger with a few guitar chords thrown in. Lyrically, though, it pays homage to the fabled "rock-star lifestyle" while name-checking some of the genre's most mythical figures like Ozzy Osbourne, Tommy Lee, and Mick Jagger. Weezy's walloping verse, similarly, celebrates everything he embodies: "Young Money baby, you know who we are / And I can play with that pussy like I play that guitar."
Getting emo with Fall Out Boy
It was only a matter of time before Wayne got in touch with his sensitive side, as he did on Fall Out Boy's "Tiffany Blews" in 2008. As the band took a more formulaic songwriting approach in the year before its first break-up, Weezy's brought a refreshing, ambitious presence to the track. Patrick Stump's delivery of Pete Wentz's flowery lyricism is par for the course. But Wayne's tender bridge — "Dear gravity / You held me down in this starless city" — holds an early blueprint for the onslaught of emotionally resonant, emo-inspired SoundCloud rap that took hold a decade later.
Indulging impulses with Weezer
Rivers Cuomo's propensity for catchy choruses shines brightly on this club-ready gem from their seventh studio album, 2009's Raditude. Full of uplifting builds and playful melodies, the song perfectly aligns with Lil Wayne's rambunctious and hedonistic lifestyle. From consuming excessive amounts of alcohol that they pop in clubs to the women that swarm them to the cars and jewelry they spend their money on, it's clear Lil Weezer are enjoying the spoils of their riches together — a wry nod to Weezy's fun with the Shop Boyz just a few years prior.
Courting rock (and controversy) on Rebirth
When Weezy pivoted to rock with 2010's ungainly Rebirth, it left fans confused and critics unimpressed. Crunched between his wildly successful albums Tha Carter III and I Am Not a Human Being, Rebirth seemed blasphemous — a crossover attempt by rap's biggest mastermind — but it only cemented Wayne's creative insular vision. The record is saturated with angst and meteor-storm productions, as well as Weezy's impulsivity. One minute he's full of pop-punk precociousness on "Knockout," and the next, he cranks up the intensity on "One Way Trip." Rebirth wasn't just a defiant move by Wayne — it was a career-altering one.
Letting the drummer have some
As illustrated above, the collaborative history between Travis Barker and Lil Wayne is a rich one. Naturally, for the first single from his 2011 debut album, Give the Drummer Some, Barker recruited some of hip-hop's most prominent stars, including Swizz Beatz, Rick Ross, The Game, and Tunechi himself. "Can a Drummer Get Some" is your standard pulsating rap-rock monster soaked in whirlwind crescendos and steely percussion. While the other rappers do their best to keep up with the fast-paced nature of the track, Wayne is right at home as his bars prove to be as heady and relentless as he is.
Creating the ultimate mash-up with Blink-182
Although last year's Tha Carter V showed how Wayne once again relished in his rap ingenuity, the announcement of a joint tour with Blink-182 was a bold one. Then again, in the age of Denzel Curry demolishing Rage Against the Machine covers and Lil Nas X dipping into power chords (thanks to Barker, of course), perhaps now is the perfect time for Weezy to make a rock comeback and remind skeptics of not only his musical versatility, but his sheer talent as well. The "What's My Age Again?/A Milli" mashup that accompanied the tour announcement does that perfectly; his bars brilliantly work in cohesion with the song's classic chords and bombastic percussion. With Weezy on the mic and Barker behind the kit, this arena tour is sure to be one for the ages.