BTS On Why Their Music Speaks To Young People And Their Collaborative Creative Process
During an intimate Q&A in Los Angeles, the South Korean boy band say they want to 'reassure' young people through music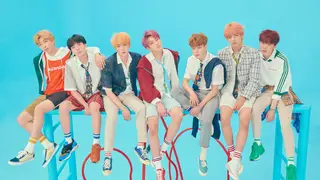 By all accounts, South Korean artists BTS are already on top of the world. Fresh off four sold-out Staples Center performances and yet another Billboard chart-topping album with Love Yourself: Answer, the group has nothing left to prove to its fervent ARMY fan base, which seems to grow in numbers and intensity with every new release.
Still, despite BTS' remarkable talent for amassing what has been called "the largest, most enthusiastic niche audience in the country," the group is still technically catering to a niche. Even now, as the group continues to break sales and engagement numbers, it's remarkably difficult to find mainstream spaces that take the group as seriously as their fans do.
Luckily for the 200 fans in attendance, Tuesday night's "A Conversation With BTS" event at the Grammy Museum in Los Angeles broke that mold with a series of questions that dug deep, covering the group's artistic intent, their collaborative tendencies, and what drives them to keep moving forward.
The event was full of sights we rarely get to see during the group's North American stops: not only was the ARMY audience near-dead silent throughout the discussion as a show of respect, but even BTS themselves looked completely at ease, with pensive rapper Suga stepping up to tag-team questions with fellow emcee (and then-birthday boy) RM.
Moderated by Grammy Museum Artistic Director Scott Goldman, here's what we learned about the group and their creative process during the revealing discussion:
RM and Suga Detail BTS' Founding Principles
BTS were quick to credit Big Hit CEO and producer Bang Si Hyuk, better known as "Hitman" Bang, with defining the group's authentic vision. "He always emphasized that we should sing about our own experiences, our own thoughts, our own feelings. That has always been at the center of the music that we made," Suga said, addressing the intimate crowd via a translator. "When we first started out, some of us were still in our teens. I was in my early twenties. We talked about the issues that we faced, and that's made BTS what it is today."
"We wanted to be a method of help for the world," leader RM added. "Mr. Bang wanted to make his music and his artists like that. We wanted to try to use our abilities and our skills and some of our inside inspirations to help the world."
Suga Understands Why Young People Connect To Their Music
Suga elaborated on the group's core goals in 2018: to make deep, personal music with the intent of healing the younger generation. "When I think back to when I was a student, I listened to a lot of music, and it was a way for me to escape and to reassure myself," Suga said. "Nowadays, teens, people in their early twenties, listen to music, but we felt, and I feel that really, there wasn't a lot of good-sounding, healthy music to listen to that helps them — that there was a lack of that that we could fill."
And these themes are universal. "I don't think it's just limited to Korea," he added. "Young people all over the world face these similar pains, sorrows, problems. That's why our fans and our listeners can relate to our music."
The Meaning Behind "Music & Artist for Healing"
At the start of every BTS video, there's a simple message beneath the Big Hit logo: "Music & Artist for Healing." According to RM, the significance of that mission statement goes back to the group's pre-debut days. Think of it as a promise.
"What we promised were two things: We have to talk about what's really inside us, and we want to be helpful to the world... to say and speak and show something that this world needs," RM said. "Life is supposed to be very ironic and unstable, and in teenage years and in our twenties, it's more and more. We doubt ourselves, sometimes we wanna live, sometimes we wanna die, and it changes day to day — even hour by hour."
So that tagline, RM said, is a promise to talk about "what's inside" and to "be a help for our friends and the world" through their music.
Big Hit's Production Process Sounds Surprisingly Laid Back
For BTS, their artistic output and production process aren't just limited to music. "It includes the choreography, the styles, and a lot of different things that come together," Suga said.
For a corporation as massive as Big Hit, you'd imagine that the most of the production process would take place behind closed doors. Not so, added Suga, who repeatedly compares the company's songwriting process to a "year-round song camp" where members submit their song ideas to Bang and input is provided on an ongoing basis. According to Suga, Big Hit's production team is relatively flat in structure, with producers and BTS members working alongside each other and acting as "equal partners" in the process of creating music.
"If there was a barrier between our production team and us, we wouldn't be able to make the kind of music that we can," he said.
As for how the group divides the work, rapper J-Hope said that all seven members "try hard to do our roles, whether it's writing lyrics or writing songs." He added: "Our participation in the process makes the music more sincere."
RM Reflects on the Love Yourself Journey
It's easy to forget that Love Yourself: Answer represents the end of an era for BTS — an era that's arguably brought the group their most significant success. To commemorate the moment, RM took some time to recap the many series the group has created up until this point, and to talk about Love Yourself's place in the larger BTS canon.
"Five years ago, in our debut, we talked about schools," RM said. "We talked about schools with three albums. And then we talked about youth with three albums. And then, folks grow up, right? We're not going to school anymore, and our attitude to life changed a little bit. What we could talk about now, and the story the world needed most was love."
So the idea for the group's record-breaking series was born out of this admittedly "very abstract" idea of love. "Many people mistake love with being in love, falling in love. Young people fall in love very easily," RM said. "But if somebody doesn't love themselves, then they can love nobody."
From there, the group and their creative team conceptualized a four-part series — three albums and one video — about love, loss, and acceptance. "We've been doing [the Love Yourself series] for two years and a half, so it's really risky... Thanks to our fans — they reacted to us, they felt us, and they told us that they came to love themselves even a little more thanks to this album."
The Boys Discuss The Collaborative Process In Perfect Harmony
With seven personalities in one group, it's only natural that there would be disagreements, but the members of BTS encourage open, honest dialogue between themselves and their production team. As the group's resident optimist, it should come as no surprise that J-Hope stepped up to handle this question: "If we think something is not good, we'll openly say it," he said. "If there's choreography, for example, and it feels like it's going to be too taxing on our physical resources — as I said, we're not getting any younger — we'll say so, and then we'll make those changes."
What's perhaps less expected, though, is the passion with which other members freely jumped in to get their own thoughts across. "A lot of evolution takes place in the recording booth too," Jimin added. "Lyrics and melody that may seem OK, [then] once we actually start recording it, we may identify some problems... we'll come together, we'll discuss it, then discuss the changes we can make."
According to Suga, it's that "mutual respect for each other" that keeps BTS on track and moving forward.
Suga Dissects the Concept of K-pop
When asked if they viewed K-pop, or Korean popular music, as a genre — specifically, if there were qualities that set it apart from other types of music — Suga was hesitant to label it as such.
"I'm a little bit careful to talk about K-pop as a genre because I don't want to be defining K-pop as a genre, so I'm a little wary of that," he said. "But rather than approach K-pop as a genre, I think a better approach would be integrated content. K-pop includes not just music, but clothes, makeup, choreography. All of these elements amalgamate together in a visual and auditory content package that sets it apart from other music or other genres."
And Jin Gives Us a Demonstration
Jin then gave an example of how the visual elements factor into BTS' work as a larger content package. According to the eldest member, the "title song will be the song that we feel reflects the unique color and message of the album, so if you want to see for a particular album what the key message is, you can watch the music video for the title track and see." So it makes a lot of sense that Jin's quietly powerful ballad "Epiphany" and the loud, colorful anthem "IDOL" kicked off the Answer era, as both songs speak to the idea that a healthy, happy foundation starts with truly loving yourself.
V Chimes In With An Astonishingly Sweet Aside as Jungkook Looks Ahead
It's only fitting that the conversation would end with a brief, poignant message to ARMY, who have helped propel a group from Seoul to U.S. airwaves and a sold-out stadium show in New York City. "The fans gave us the wings that allowed us to be where we are," vocalist V said. "So we're always thankful, and we know we're here thanks to our fans."
Following that up was youngest member Jungkook, who wrapped things up with a final set of thoughts on the group's recent victories. "[Our success on the Billboard charts] shows us where we are as a group and the achievements we've made, and that makes us think more about our responsibilities and how we should act — how we should make our music."