[caption id="attachment_207579" align="alignleft" width="300"]
Getty Images[/caption]
Ladies and ... okay, this one's mostly just for the ladies, your new Christian Grey has arrived.
Now that Charlie Hunnam has bowed out of the raunchy role in "Fifty Shades of Grey"— to be a family guy and stuff, supposedly — a new hunk has reportedly been recruited from the TV actor crowd.
Joining the kinky "50 Shades" brigade is none other than "Once Upon a Time" and "The Fall" star Jamie Dornan, the British babe who'd emerged as a contender for the dirty billionaire's suit soon after Hunnam exited the pic.
And so far, there aren't any petitions to ouster the guy from his bossy throne (the day is still young), and we have a few ideas as to why that might be.
1. He looks damn good with his shirt off and in bed (at the same time, no less).
2. Also, the Twitterverse seems to mostly like him, which is important because we've seen what happens when those "50" fans are not satisfied.
Okay... Decision has been made, Jamie Dornan is perfect

— Ana Beretsos (@AnaBeretsos) October 24, 2013
Jamie Dornan is the new Christian Grey....thats better!!!

— ☆ Chelsey Kettle ☆ (@ChelseyLouise) October 24, 2013
Well @JamieDornan1 is the new Christian Grey. I will definitely be seeing this movie! #FiftyShadesOfGrey

— Julia Crouch (@MissJuliaCrouch) October 24, 2013
3. He can pull out the feels when needs be ('cause, spoiler alert, Mr. Grey won't always be whippin' his woman into submission onscreen).
4. He doesn't mind getting his face messy while eating. (What? Mr. Grey appreciates fine...dining...)
5. He will wear those ritzy business suits like a BOSS. Guaranteed.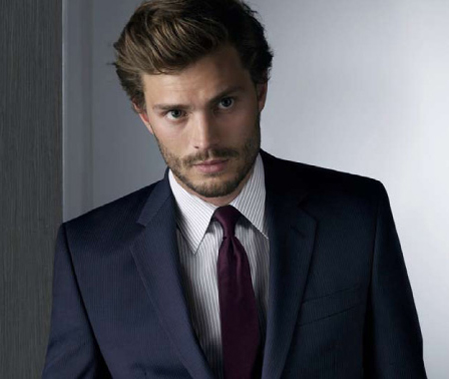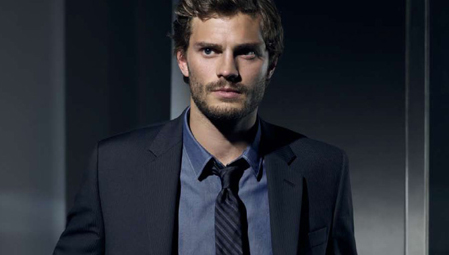 Also Check Out: 5 Roles You Totally Know '50 Shades' Femme Dakota Johnson From