Yesterday, One Direction posted a special video announcing the homecoming leg of their On The Road Again tour. The boys will be triumphantly returning home to Ireland and greater United Kingdom, riding adorably high off the success of their record-breaking new release, Four.
Yesterday (November 29,) Harry, Zayn, Niall, Louis, and Liam announced the tour in a video posted to Twitter. It will kick off on September 24 in London and tickets go on sale Saturday December 6 on their website.
Pretty soon Zayn's hair is going to upstage Harry's, right?
Related: Meet Niall's Slobbery Hair Twin In One Direction's New 'Night Changes' Behind-The-Scenes Video
Follicle fisticuffs aside, their homecoming isn't the only thing to get excited about. One Direction's latest album debuted atop the Billboard Hot 200 Chart this week — finally dethroning Taylor Swift's 1989 — an impressive (if unsurprising) event made all the more so thanks to the news that Four has made 1D the only group in the history of the Billboard charts to ever see their first four albums debut at the number one spot.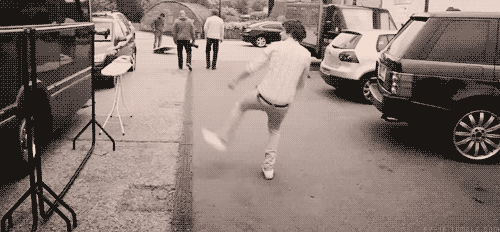 So, basically, One Direction and their fans are having the best November, ever? We'd say so.