Rae Sremmurd's First Singles As Solo Acts Are Here
Solo Dolo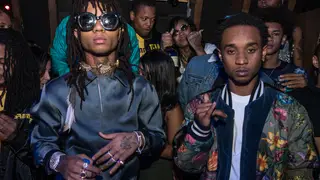 Swae Lee and Slim Jxmmi are officially solo acts...sort of. Last night (February 28), each member of Rae Sremmurd dropped a new song — "Hurt To Look" by Lee and "Brxnks Truck" by Jxmmi. The duo also released the second single from their upcoming album, Sr3mm, "Powerglide" featuring Juicy J.
So how did the brothers fare on their solo efforts? Did Swae bring the same pop appeal and knack for infectious hooks to "Hurt To Look" as he did to French Montana's "Unforgettable?" What does an unleashed Jxmmi sound like when he's anchoring a single by himself?
"Hurt To Look" is polished perfection. Over a disco-infused beat produced by Bizness Boi, Fwdslxsh, and EY, Swae Lee skates with the simple, but effective lyrics, "It shouldn't hurt to look your way." As Lee's career has progressed, he's moved farther away from the sonic confines of rap. His pen can work just as effectively on the militant R&B anthem "Formation" as it can on the surging and sensual "Hurt To Look."
Isaiah Thomas has a new anthem now, all thanks to Slim Jxmmi. The former Boston Celtics point guard made it known that his one time home "better bring out the Brinks truck" in free agency. They didn't, and he was eventually traded to the Cavaliers and then again to the Lakers. Regardless of how Thomas is playing now, he and Jxmmi have a lot in common — short, cocky, and overshadowed for a majority of their career.
That's what makes Slim Jxmmi's solo effort enthralling. It surpasses expectations. Swaggering, catchy, and effortless, "Brxnks Truck" produced by J-Bo & Mike WiLL Made-It proves that Jxmmi is a threat without the melodies of his brother.
Wonder Twin Powers Activate
"Powerglide" isn't as experimental as "Hurt To Look" or as immediately memorable as "Brxnks Truck," but honestly does it have to be? Rae Sremmurd knows their strengths — memorable lyrics, great hooks, and uncomplicated party anthems — and the second single from Sr3mm checks all those boxes.