FKA Twigs called out racist trolls on Twitter on Sunday, describing her shock for the hate tweets she has been getting.
The mesmerizing singer is dating Robert Pattinson, apparently upsetting fans who want Rob and ex-girlfriend Kristen Stewart together. Jezebel captured some of the namecalling, the majority of the stuff we can't print here: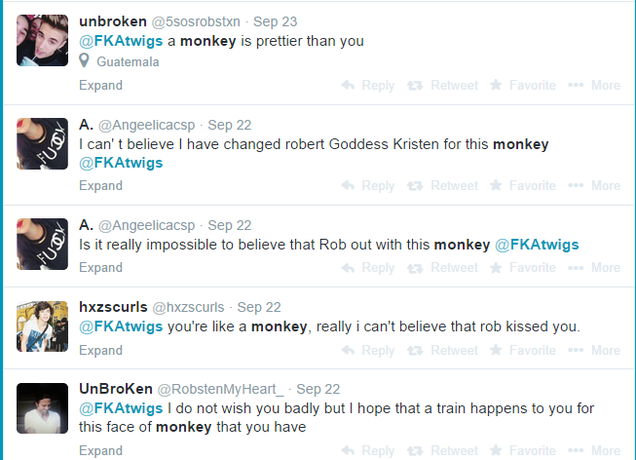 However, as FKA Twigs (born Tahliah Debrett Barnett) tweeted her disgust, her fans came to her defense. And other Rob and Kristen fans came to clarify that it's not their entire fandom that is being mean.
@FKAtwigs Sending you positive vibes, girl. So sorry. You're beautiful and talented and you're gonna rise above this.

— Erika Rodriguez (@EverErika) September 28, 2014
@FKAtwigs please know there are so many who feel exactly the same way. My heart breaks for what I have seen.

— Rhonda (@rhonda_) September 28, 2014
@FKAtwigs please ignore those foul people :((( ily and lots of people love you and support you

— Usagi :0 (@hoedesu) September 28, 2014
@FKAtwigs Poisoned people. Don't let their crazy take anything away from you. BTW, I've had LP1 on repeat. Such a bloody good album.