When the sumber-jumbo-mega Hall H panels for this year's San Diego Comic-Con were announced and Lionsgate -- and therefore "Hunger Games: Mockingjay - Part 1" -- was missing from the list, fannish draws dropped everywhere. Pardon us? How would we get our fix of Jennifer Lawrence across like a dozen enormous screens? What would we smugly tweet about, if not the first screening of some super VIP-exclusive-top secret footage or first trailer for the film?
As it turns out, "Mockingjay" will be swooping into this year's Comic-Con, just not necessarily Hall H. The big ticket is, of course, the unveiling of the trailer, which is happening in partnership with Samsung. On Friday, those attending SDCC will be able to view the brand new trailer on a Galaxy Tab S in the Samsung Capitol Lounge. (If you're not at Comic-Con, don't fret -- on Saturday and Sunday, select Best Buys will be joining in on the trailer-viewing fun, offering visitors the chance to take a look at the clip on Samsung devices.)
That's not the only place you'll catch the Girl On Fire in San Diego. In addition to the inevitable Katnisses running astray on the convention hall floor -- arrows and all -- Lionsgate will also be offering a special Comic-Con only poster. It's all stark and Ralph Steadman-looking and we're kind of really into it:
It was designed by WK Interact, and it makes us shiver and hear that little four-note Mockingjay call. Right? Right. Insert solemn three-finger salute here.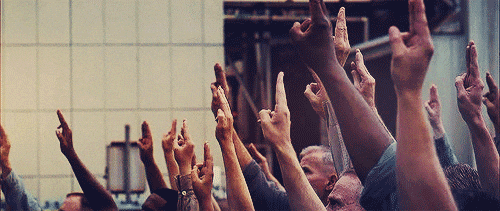 Maybe we'll catch Josh Hutcherson, drenched in white paint and wandering the streets of San Diego a la yesterday's Capitol Living portrait series. Hey, we can dream right?
But really, given the creepy, propaganda-tinged marketing campaign for the film so far, we would be zero percent surprised to find a few chalk-painted Mockingjay emblems on sidewalks, video feeds "interrupted" with messages from the rebellion (we see you there, Beetee) or clandestine Mockingjay pins being passed around on the streets. After previous years' showings, it's hard to imagine a Comic-Con devoid of "Hunger Games," even if we don't have to wait hours to get into Hall H to get a taste.
"The Hunger Games: Mockingjay - Part 1" flies into theaters Nov. 21.