Euphegenia Doubtfire is back.
Twenty-one years after the comedic classic hit theaters, Fox 2000 is reportedly reuniting Robin Williams and director Chris Columbus for a "Mrs. Doubtfire" sequel. "Elf" writer David Berenbaum will pen the script, according to The Hollywood Reporter.
For the tragically uninitiated, "Mrs. Doubtfire" followed Williams' Daniel Hillard, a struggling voice actor whose wife files for a divorce. After Mrs. Hillard (Sally Field) is granted full custody of their three children, he poses as a Scottish housekeeper to take care of them.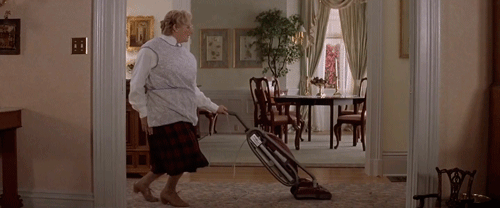 With a perfect medley of tenderness and humor -- the run-by fruiting? that confectionery face mask? LEYLA?-- the film saw enormous success worldwide, pulling in close to $220 million domestically and more than $440 million worldwide.
Most recently, Williams has starred in the "Night at the Museum" franchise and portrayed Dwight D. Eisenhower in "Lee Daniels' The Butler." Columbus worked with Williams on the "Night at the Museum" franchise as a producer.
According to THR a sequel had been in the works starting in 2001, but was put on hold for years until earlier this year. There are no details on the plot of the sequel yet.