When Steven Klein was booted from New Found Glory in mid-December the band cited non-specified "personal differences." But in court documents from around the same time posted on Tuesday by the Idobi Network site, it's clear that the band parted ways with him after the guitarist was accused of lewd conduct with a minor.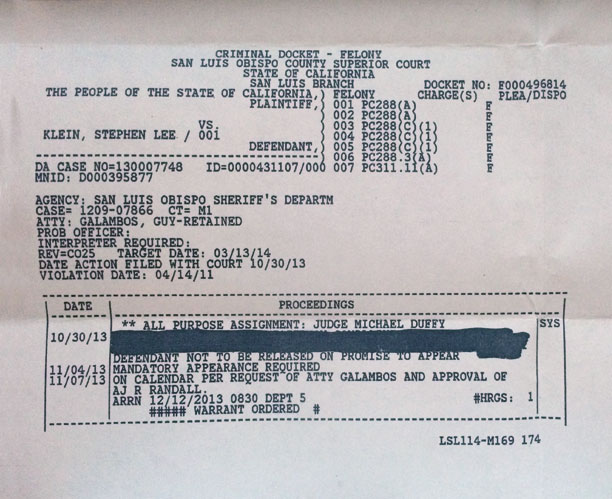 According to the documents, Klein was arraigned in a San Luis Obispo Superior Court on two felony counts of lewd conduct with a minor under the age of 14, three counts of lewd conduct with a minor 14 or 15, one count of intent to commit a lewd act with a minor and one count of possession of child pornography.
Klein's lawyers reportedly entered a not guilty plea on his behalf and the guitarist was not booked after the arraignment and remains free until he's due back in court on March 20. The day Klein, 34, was in court in December NFG announced that with "heavy hearts" they were parting ways with the founding member of the punk group. "We've had our differences with Steve over the years that have led us to this decision," they wrote. "We love Steve however personal differences have guided this decision and we no longer feel we can work with him."
In a statement released on Wednesday night, lawyer Debra S. White clarified the charges Klein is facing. She said he's not accused of engaging in any lewd physical contact with a minor and that all charges derive from "online consensual video chats between Steve and some female strangers he met on an adult website. Steve believed the females were over the age of 18."
White could not be reached by MTV News for additional comment at press time.
She also said the child pornography charge is based solely on Klein allegedly "possessing" the videos of the chats and that the alleged minors in this case are "not known females. This means that no one, not the prosecution, not the police, and not the defense actually know who the females are and no one knows their true age."
Following the reveal of the court documents, NFG issued a new statement regarding the case. "Upon our return from Warped Tour Australia, Steve made us aware of possible allegations that might be made against him," they wrote. "At that point, not knowing all the details, we made the decision to part ways in order for him to deal with these personal issues."