Carly Rae Jepsen Is Dancing On Her Own In Ecstatic 'Party For One' Video
It's just her and her Calvins in a hotel room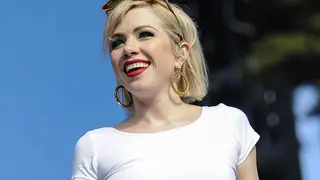 While the campaign to arm the Queen of Emotion was mostly in jest, there's no denying that once she proudly raised that (inflatable) blade on the Lollapalooza stage, something changed forever. On "Party For One," Carly Rae sounds confident, even in the face of rejection.
The video, directed by Bardia Zeinali, doubles down on that, placing her in a hotel room, alone, in her underwear, and just having the damn time of her life.
It's not just her, though; the scenes are intercut with plenty of others suffering through heartbreak by themselves. What they choose to do about it — have dinner in the bath, laugh and cry at the TV all night, DIY some bangs — is where the delicious catharsis comes in.
The music here matches these sensations, with a tidal wave of synthesized gloss coating the ache of the lyrics: "Party for one / If you don't care about me / I'll just dance by myself / Back on my beat." Classic CRJ! A modern karaoke standard is born.
As fans began suspecting online when news of the song first hit, "Party For One" is indeed the first taste of an upcoming fourth CRJ album, due out sometime in 2019. It'll be her first proper album since 2015's EMOTION.
Watch the wild video above and see if you have any sudden cravings for Absolut, Calvin Klein, or Postmates after.