First 'Dumbo' Trailer Is Here To Fill The 'Greatest Showman'-Sized Hole In Your Heart
Tim Burton's live-action remake soars deep into the circus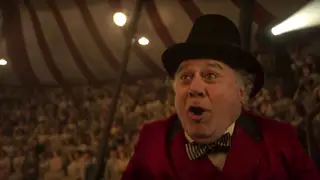 The first full-length trailer for Tim Burton's live-action Dumbo has finally arrived and it is capital-M Majestic.
As the story goes, human greed quickly derails sweet, sneezy, Dear Baby Dumbo's charming beginnings. When circus owner Max Medici (Danny DeVito) realizes his big-eared elephant can fly, he quickly turns from local laughingstock into the show's star attraction. Dumbo's popularity soon catches the attention of entrepreneur V.A. Vandevere (Michael Keaton), who — blinded by the dollar signs in his eyes — wants to capitalize on the phenomenon and present him in his own Dreamland.
Things really go south when Dumbo's mom is ripped away from him, rendering him depressed and gravely distressing his young, loving caretakers, Milly (Nico Parker) and Joe (Finley Hobbins). It's up to them and their dad, Holt Farrier (Colin Farrell) to save their sweet beast from the nightmare.
The short preview is full of soaring visuals that bring to mind The Greatest Showman, last year's circus hit that had serious box-office staying power. Of course, this time, the story is more of a cautionary tale about humanity than a celebration of show business.
Check out the trailer above. Dumbo hits theaters March 29, 2019.