Cardi B Didn't Win A Grammy, But Her 'Finesse' Performance WON The Grammys
Cardi finessed the grammys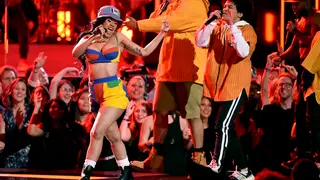 Cardi B might not have walked away with a Grammy tonight, but her "Finesse" performance proved she could take over any award show she attends. From the start of "Finesse," it was obvious Cardi had a point to prove. She let the soul of In Living Color wash over her during the song's intro.
Bruno Mars then came on the stage to keep the vibe going. Mars and company did a great job maintaining the energy level with a fantastic dance routine that translated the viral "Finesse" video to the Grammy stage. However, it wasn't long before Cardi came back on the scene pushing her way through anything in her direction. The chemistry between Cardi and Mars was so electric the duo should think about dropping a collaboration album to save 2018.
"The day I filmed the video, it was just surreal," said Tayag. "We're on the In Living Color stage like verbatim and the vibe, the gears, the clothes. This is just like a huge flashback and its almost like you're on this really high bridge and it's really great if you're kinda just looking at eye level, but you look down it's like, wow this is pretty high up."
So far tonight (January 28), Bruno Mars has won Best R&B Album, Best R&B Song, and Best R&B Performance.