Joseph Quinn Acknowledges The Power Of 'Stranger Things' Fans
'I'm a little bit scared of you,' he said at the MTV Movie & TV Awards, 'but ultimately, I am utterly, utterly indebted to you'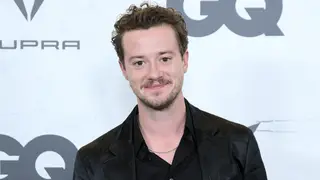 Stranger Things may soon be coming to an end, but the show remains one of Netflix's most popular original series. Tonight (May 7), at the 2023 MTV Movie & TV Awards, actor Joseph Quinn won the Golden Popcorn for Breakthrough Performance for his role as Eddie Munson.
Eddie was introduced last year during the fourth season of Stranger Things as the leader of the Hellfire Club. Eddie became an instant fan favorite, with his charming nature, and protective ways of caring for his friends. While he meets a terrible fate during the season, fans rallied behind Eddie, and even shared theories that he might return during the fifth and final season.
During Quinn's acceptance speech, he profusely expressed gratitude for the show's fans, whom he said made receiving the award all the more special.
"Thank you, thank you, thank you to everyone who took the time out of their day to vote for me. That is a very sweet thing," said Quinn. "I think the fact that these awards are voted for by the fans makes this feel especially sweet, and I owe a lot to you."
Stranger Things has one of the most ardent fan bases, with the hive helping the show break several records. With such a strong backing, the Stranger Things following harnesses more power than Vecna and the upside-down combined.
Quinn couldn't help but acknowledge the magical — and somewhat frightening — power of Stranger Things fans in his speech.
He continued, saying, "I've had some amazing experiences over the last year, none of which would have happened without your support. So I am incredibly grateful for you. I'm a little bit scared of you, but ultimately, I am utterly, utterly indebted to you."
The most recent season of Stranger Things not only helped launch a new star in Quinn, but it also led to a resurgence in popularity for Kate Bush's 1985 single, "Running Up That Hill." The song became the most streamed throwback song on Spotify last year, more than 37 years after its original release.
The 2023 MTV Movie & TV Awards are airing right now on MTV. Find all the winners here.