[caption id="attachment_152678" align="alignleft" width="300"]
Lucasfilm[/caption]
Blame whoever you like, but "Star Wars: Episode VII" by way of Walt Disney is actually happening.
Yep, our space man George Lucas passed his light saber on to Mickey Mouse (for a hefty $4.05 billion, of course), and, come 2015, the force will bring an all-new, hopefully-not-pillaged-and-dismembered extension of "Star Wars" into being. "Befuddled and nervous we all are," as Yoda might say.
After getting past the stage of sheer disbelief and rampant head shake-age, we couldn't help but wonder: What exactly will happen when Tatooine and Space Mountain collide? Will Wookie and Beast become friends? Will Jasmine and Leia share tips for keeping a taut midriff? Actor Simon Pegg got just as philosophical about the news on his Twitter feed, writing, "Does this mean Leia is now a Disney princess?" 
Pegg, sensing the humor potential, then opened the floodgates of snark to fellow tweeters by concocting the hashtag #DisneyStarWars.
The Twitter world, per usual, did not disappoint. Here are some of our favorite little gems.
@fading_aw4y - may the force be with pooh
@TheAndyRat - Grand Moff Tarkin after obliterating Alderaan: "It was a small world, after all."
@DaJurr - Wall-E as R2-D2.
@SimonPegg - Pinnochobiwankenobi
@amydale - Bambi Fett
@Antocalypse - Hold onto your hats, ladies: Captain Jack Solo!
@monicasomavilla - A long time ago, in a galaxy Jaffar, far away...
@ianrendall - Honey, I Blew Up the Death Star
@NickBaumann - Snow White and the 7 Droids
@daudig - It's a Parent Trap!
@jbouie - Alice in Wookieland
@Cybersig55 - My kids can't wait to watch "Jedi of Waverly Place"
@mkramer - When you wish upon a Death Star.
@h2deano8 - Top new song from The Little Mermaid is "Under the C-3PO"
@BadAstronomer - The Lady and the Wampa.
@TMI_Institute - Jar Jar Jiminy.
@sarashana - Cars 3: In Frozen CARbonite
@parkerpublicist - "The Emperor's New Groove" now has a whole new meaning to me.
@BryanMcManus - High School Naboosical
@monicasomavilla - There's a disturbance in the force. There are Wall-Ewoks everywhere.
@acecomicsfan - The Fox and The Scruffy-Looking Nerfherder
@aMrazing - Donald, I'm your father! - Duck Vader
@SebLefebvre - Beauty and the sith
Plus, um, there's this.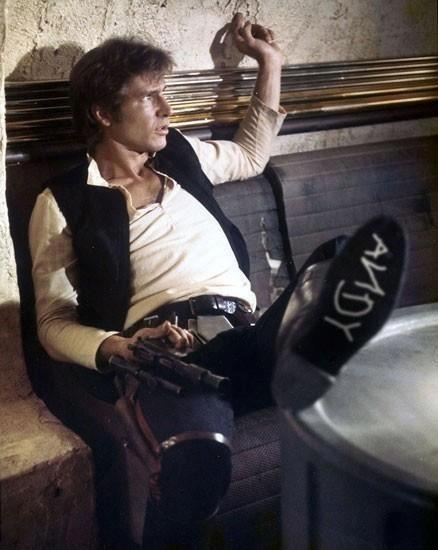 Got some to add? Send them our way at @NextMovie!