My movie tastes are pretty wide-ranging, with a healthy representation of international, "non-mainstream," "anti-Hollywood," and "freakin' out there" in the mix. But no matter how many movies I add to my list of personal all-time favorites, nothing has ever knocked Casablanca from the No. 1 spot. It may not make me "cutting edge," but I always come back to this one, and five minutes from any scene is all I need to be reminded why. Especially if that scene includes Ingrid Bergman, whose Ilsa Lund is woven into my DNA as a Platonic ideal of a Beautiful Woman. (Grace Kelly in Rear Window runs a close second, and if I ever saw a video mashup of them together I'd turn into the wolf from a Tex Avery cartoon.)
This is one of Hollywood's great rarities: the perfect movie. From the tight and quotable script to the cast (Humphrey Bogart, Bergman, Claude Rains, and Paul Henreid down to the smallest bit character) to Michael Curtiz's effective but invisible direction, changing any one note would be a diminishment. Emotionally it pushes every button it sets out to push -- every time, no matter how often I watch it or how much I've got every line and camera angle permanently embedded in my memory.
So when I heard that Warner Bros. was going to be bringing it back to DVD and -- for the first time -- on Blu-ray disc, I figured that my home video collection would be complete because my personal movie nirvana will have been achieved. I've already been impressed with Warners' Blu-ray upgrading of its vault classics -- the fine detail revealed in 1939's Technicolor The Adventures of Robin Hood (also a Curtiz film) has made that one of my demo discs when I show friends "This is what Blu-ray can do!" -- so I expected big things from this latest edition of this essential classic, especially since Warners' 2003 DVD has been the standard-setter up to now.
I was not disappointed. From the absolute crispness and clarity of the first image -- a model globe of the Earth zooming us to Casablanca, that most wretched hive of scum and villainy where "the fortunate ones through money, or influence, or luck, might obtain exit visas and scurry to Lisbon; and from Lisbon, to the New World" -- I knew that this clean, practically flawless 1080p transfer is now the definitive home video edition. I'm not just spouting trite hyperbole when I say that this Blu-ray gave me something like the thrill of watching the movie for the first time.
Film.com writer Glenn Erickson, at his DVD Savant site, calls this "the best-looking B&W restoration and video encoding this reviewer has seen."
The Blu-ray transfer on the first disc is simply sensational, a B&W HD wonder that revives the 'silver screen' look of original nitrate prints. Highlights glint, various fabrics reveal different textures and Ingrid Bergman's eyes look brighter and more alive. And to think that for decades we watched this film in lo-res TV transmissions of murky 16mm prints.
All the goodies in the Ultimate Collector's Edition's big white box are icing on this cake -- Casablanca poster cards (now displayed here around my desk), a harcover photo book with press copy about its signature stars, a copy of the Letters of Transit prop (complete with branded travel wallet and luggage tag), and more.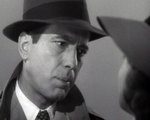 Plus of course we get the wealth of extras that augment our appreciation of the film and its related histories. (All the extras from the 2003 DVD are still here.) Two highlights are the excellent commentary tracks by film critic Roger Ebert and film historian Rudy Behlmer, two enthusiastic and unassailably knowledgeable fans of the film. Ebert's, in fact, is one of the best commentaries on the shelves. Lauren Bacall's retrospective on Humphrey Bogart prompted me to stack up my Bogart movies for this weekend. (Put Bacall in To Have and Have Not up there with Bergman and Kelly, by the way.) We also get outtakes and additional scenes (just trims, really), scoring-stage sessions (audio only), the retrospective documentary You Must Remember This: A Tribute To Casablanca (narrated by Bacall), a 1955 television adaptation titled Who Holds Tomorrow, Bugs Bunny co-starring with Daffy Duck and other Looney Tunes A-listers in the Warner Brother animated spoof Carrotblanca, and more. New for this edition is a third disc holding the 1993 hour-long documentary, Jack Warner: The Last Mogul, an interesting history of the legendary Warner Bros. exec who put his personal stamp on the studio that bore his name.
My only quibble with this set would be with the packaging. The box is large but not unwieldy and everything fits snuggly into it, so that's fine. But the outer slip-sleeve, with its lace doily cut pattern and the cameo-brooch silhouettes of Rick and Ilsa, is too romance-y for my taste, a bit girly, and doesn't capture the film's multi-layered essence the way you'd get in, say, a real image of Ingrid Bergman, another of Bogart pointing his revolver, maybe Claude Rains being "shocked, shocked," and then another or two of Ingrid Bergman because there's no such thing as too many of those.
Other reviews of the Ultimate Collector's Edition (and I'll be adding more as I find them) are at:
• DVD Beaver -- Detailed specs, comparisons to previous editions, and high-res screencaps (several of which are now part of my screensaver).

• DVD Town