By Zack Smith
There's more merchandise coming out for Marvel's "Iron Man 3" than any sane person can keep track of – but no one ever said MTV Geek was sane.
Here's some highlights that were recently announced – plenty of iron (or plastic painted to look like iron) for fans of all ages!
First up, we're going back to "The Avengers" for Hot Toys' Battle Damaged Mark VII 1/6 Scale Collectible Figurine.  Designed specifically around Robert Downey Jr.'s look, it includes a base with a fallen Chitauri warrior, removable mask, like-up features and more!
The figurine will be available from Hong Kong for its first 800 pieces, and limited editions of it will be available as "Iron Man III" nears its release.  Keep your eyes peeled!
If you want a more up-to-date Iron Man armor for your high-end collection, Hot Toys also has also recently announced the Mark XLII 1/6 scale figurine among its many fine products.  Like its Avengers counterpart, it has battle-damaged parts (interchangeable with not-battle-damaged parts), light-up bits and is detailed as all get out, with looks at the circuitry and such beneath the shiny surface.  Perhaps some enterprising fan will use these details as the basis to reverse-engineer their own suit of armor! …probably not.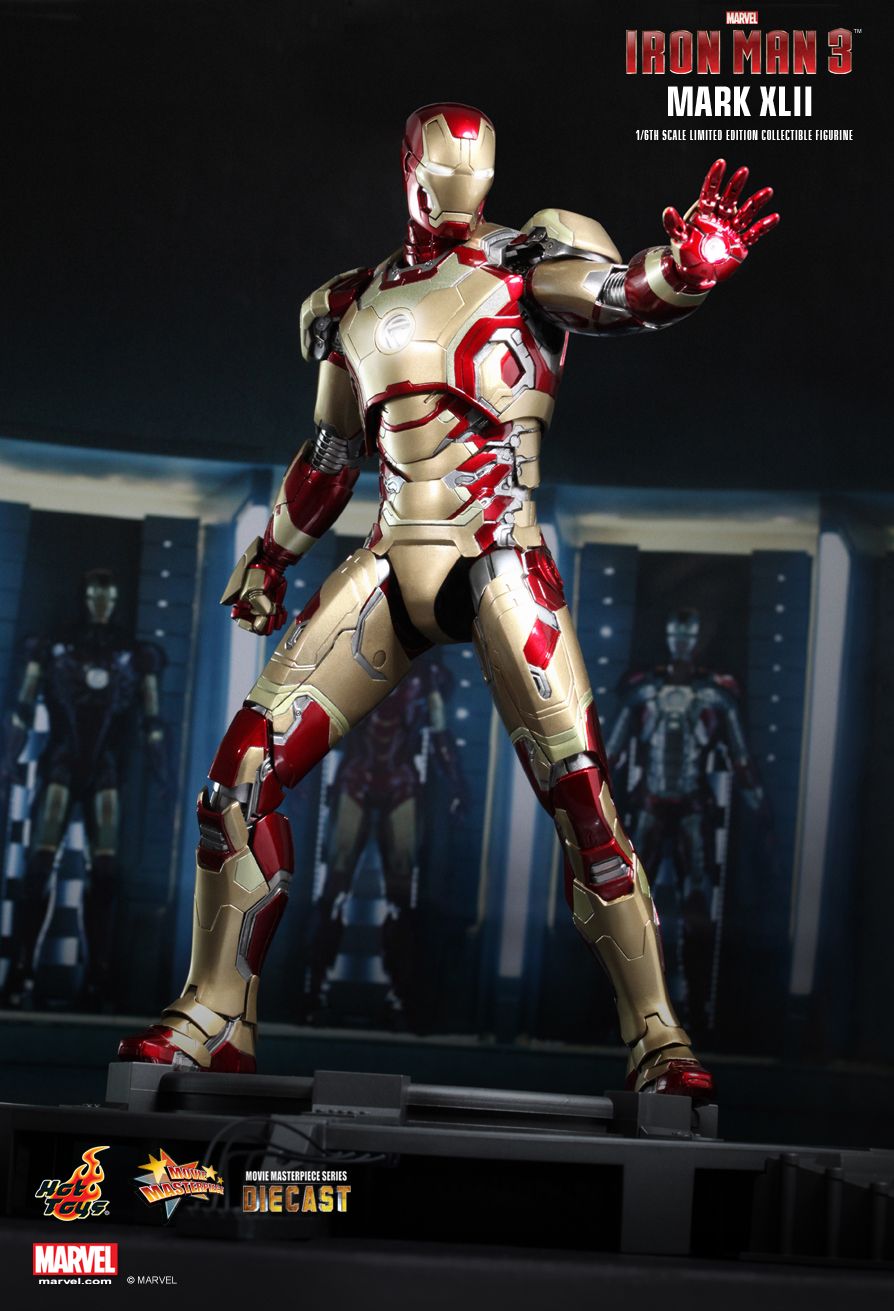 You can pre-order this from Hot Toys' Hong Kong store.
Now, if you want something a bit more affordable but still cool, Marvel has released new images of the Diamond Select Iron Man and War Machine movie tie-in figures.  Designed and sculpted by Gentle Giant, they're super-detailed and super-poseable, and can throw down on your other figures with mad firepower any day of the week.
You can pre-order both figures now on Amazon.com.
Finally, Marvel.com has revealed the last of the "Iron Man III" minimates, which will be available through comic shops, specialty shops and ToysRUS.com.  They are friggin' adorable, and will first be seen at Toys R Us later this month.
That'd be sweet if they actually worked and could fly around and get you drinks and blow up Lego towers with repulsor rays and stuf…I need a girlfriend.
There's probably been even more stuff announced as we've written this blog – and more to come as "Iron Man III" gets closer to theaters!  What excites you the most, and what would you like to see?  We're hankering for a "Mandarin Voice Changer" so we can have conversations with someone with a Bane Voice Changer.  BEST MARVEL/DC CROSSOVER EVER.
Related Video:
--
Follow @MTVGeek on Twitter and be sure to "like" us on Facebook  for the best geek news about comics, toys, gaming and more! And be sure to follow @thezacksmith for more fun!