By Zack Smith
Everyone's talking about Marvel's new "Iron Man 3" trailer with Robert Downey Jr.– and we've got a look at some toys and statues of the Armored Avenger that as as close as most people will get to having Iron Man armor of their own.
We're sure you're super-excited about that new Iron Man 3 trailer that debuted yesterday.  Hey, let's roll that beautiful armor footage again!
But we think you'll be just as excited about these new Iron Man pieces – if you can afford them.  Here's a round-up of just some of the biggest Iron Man 3 statues and toys that were recently announced!
Just yesterday, pre-orders opened for Play Imaginative's Super Alloy Iron Man Mark VII - RAW Edition.
This $400 piece from the Signapore-based Play Imaginative features a 12-inch die-cast look at Tony Stark's newest armor minus the pretty colors, and is made of 88% die-cast metal, so it's likely to be one of the heavier Iron Man pieces out there.
The figure also includes a battery-operated arc reactor light in its chest (not an actual arc reactor, even $400 doesn't buy you that), and magnetized feet to help hold it in the Hall of Armor Display that's part of the set.
Based off the display cases Tony Stark uses in the films, this includes five different modes of battery-powered lighting, and magnetic clamps to hold that armor in place.
The set is only available for pre-order through March 25, and will not be sold after that.  For more information, check out Play Imaginative's site.
Continuing the avalanche of iron, there's an ARTFX statue of the Iron Man Mark 42 (referred to by the Roman numerals of "XLII" in other announcements) from Kotobukiya.
Combining elements of Iron Man's previous armors (and, we can only assume, Life, the Universe and Everything), the Mark 42 armor is "a sleek machine with overlapping plates and a unique segmented look," according to Kotobukiya.  The new statue, which stands 15 inches tall, features Iron Man blasting over the water in his new armor, and also features  an LED light-up feature in his eyes and on the arc reactor on his chest with three settings (Off, Continuous On, and triggered by the built-in sound detector), so he'll be ready for battle on your terms.
The snap-kit figure is due to arrive in July 2013 – and Kotobukiya says there'll be more Iron Man 3 statues from ARTFX in the near future.
Meanwhile, Tony Stark's ready to strike a pose with this new Iron Man 3 "Power Pose" figurine from Hot Toys.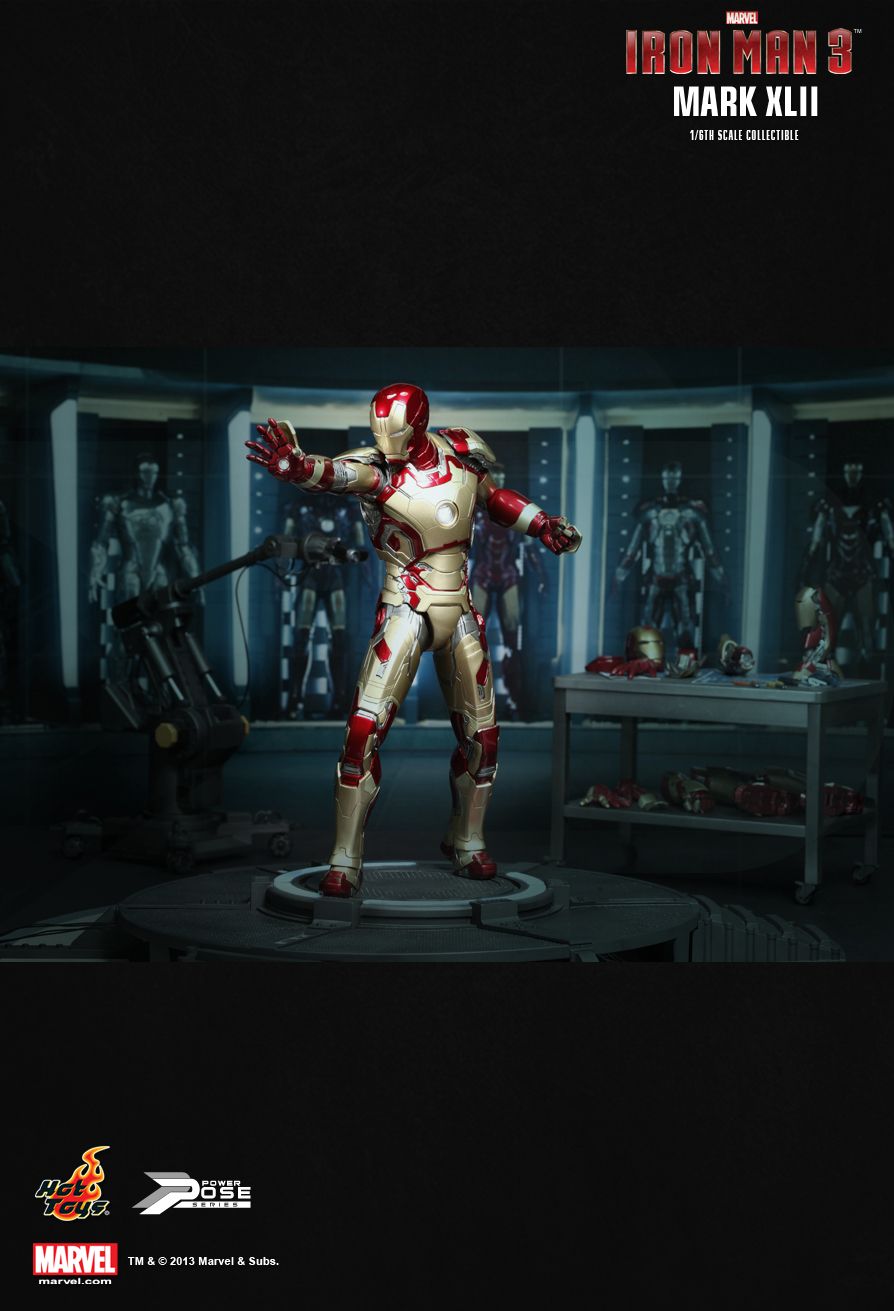 As shown on Hot Toys' website, the new "Power Pose Mark XLII Collectible Figurine" features the new Iron Man armor from the movie, which echoes the silver-and-red look of the character in the late 1980s.  The figurine isis semi-articulated with flying and battle poses, and has the ability to perform waist and neck twist actions.,  In addition, there's LED light-up functions and a figure stand with the "Mark XLII" and Stark Industries nameplate.
This looks like a pretty bad dude – and there's plenty more IM3 merchandise coming from Hot Toys.  There's their stunning Sixth Scale Tony Stark, their ¼ scale Mark XLII and War Machine busts, and also announced today – the Iron Man Cosbaby line, featuring Tony stark and an army of armors.  They are adorable.
The "Power Pose" figurine is scheduled for release in the second quarter of 2013, in time for the release of the Iron Man 3 film.
Of course, if you (like most people, including this writer) don't have three figures to invest in high-end Iron Man pieces, you can always go for the affordably-priced action figures.
As reported by USA TODAY, Hasbro's new "Assemblers" figures for Iron Man 3 will each feature more than 25 options for armor customization with different weapons and parts from the various Iron Man films – along with The Avengers and years of the comics.

The line features 16 figures, including Iron Man's red-and-silver-style armor from Iron Man 3, along with the "Iron Patriot" and "War Machine" armors.  Please not that when customizing the latter, actually putting a missile launcher or machine gun right next to your head in real life would likely result in death and/or tinnitis, armor or no.
If the 3 ¼ inch figures don't include one based on the short-lived 1970s armor with roller skates and a nose in an upcoming wave, we're crying foul.
What Iron Man 3 merchandise are you most excited about – and for that matter, how excited are you for the new film?
Related Videos:
Follow @MTVGeek on Twitter and be sure to "like" us on Facebook  for the best geek news about comics, toys, gaming and more! And be sure to follow @thezacksmith for more fun!