This year's Best Shirtless Performance category at the MTV Movie Awards isn't just a superior showcase of unfettered man flesh; it's also the first and last opportunity for Taylor Lautner, Hollywood's most famous shirtless werewolf, to take home a tub of Golden Popcorn in specific appreciation of all his magic shirtless moments in "The Twilight Saga." (At least until or unless he receives a Lifetime Achievement Award for Abdominal Awesomeness, which, let's be real, is absolutely going to happen at some future Oscars ceremony.)
And since Taylor's torso already has a cult following of millions, it's not like we really need to do a GIF retrospective of all his most marvelous topless moments in preparation for the big night on April 14... but hey, since we're here.
Taylor Lautner: A Shirtless GIF Retrospective
Remember when Taylor was shirtless and stood up in slow motion?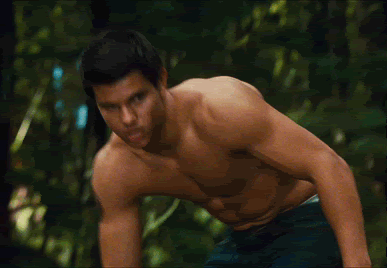 Remember when Taylor wasn't shirtless...so he fixed that situation RIGHT QUICK?
Remember when Taylor was shirtless, so come at me, bro?
Remember when Taylor was shirtless by this car?
Remember when Taylor was shirtless, and his hair was like, wheeee!
Remember when Taylor was shirtless, and suddenly that wasn't enough?
Will Jennifer Lawrence get her silver lining in the form of a Golden Popcorn? Which beefcake will sizzle in our brand-new Best Shirtless Performance category? It's up to you to decide the winners of the 2013 MTV Movie Awards! Vote now, and tune in Sunday, April 14 at 9 p.m. ET, as star Rebel Wilson takes the stage at the Sony Pictures Studios lot in Culver City, California.
Which of our Shirtless Taylor moments is your fave?