Remember how we were all, "ZOMG, is 2013 going to rep the most fashion-packed NBA Draft Day EVER??" and then we fell into an internet rabbithole, clicking through projected top picks' Instagram accounts and ogling their unexpectedly good taste? Welp, we watched last night and suffice it to say, we were up to our earlobes in way improved style decisions. (Granted, there was nothing quite LeBron man-floral or Wade Versace level that hit the stage last night, but we ARE talking about fresh-faced young guns essentially accepting offers to their very first jobs, after all.) We're not big on bragging here, but this time, we can't keep this one under wraps. We definitely called this. If you weren't able to catch it last night, there's a lot that you missed, and to us, it's significant enough to warrant a full style recap. Thus, we present you with our top 10 style moments from the 2013 NBA Draft. LEGGO!
NUMBER ONE STUNNA
Anthony Bennett at the 2013 NBA Draft.
Photo: Getty Images
Name: Anthony Bennett
Order: #1
Picked by: Cleveland Cavaliers
Defying countless first-pick predictions, Canadian Anthony Bennett scored top honors as the Cleveland Cavaliers' (and the entire night's) very first brand new NBA draftee. For his pro league debut, Bennett shook commissioner David Stern's hand in a textured gray Eaden Myles suit with a peak lapel, doubled-up patterns on his shirt and reddish plaid tie, and a peek of pink from an expertly folded Alton Lane pocket square.
ELEVEE + ALTON LANE LINEUP
Cody Zeller, C.J. McCollum, and Michael Carter-Williams at the 2013 NBA Draft.
Photo: Getty Images
Names: Cody Zeller, C.J. McCollum, Michael Carter-Williams
Orders: #4, #10, #11
Picked by: Charlotte Bobcats, Portland Trailblazers, Philadelphia 76ers
Bennett wasn't the only one repping AL, though. Fellow draftees Cody Zeller (#4 pick), C.J. McCollum (#10 pick), and Michael Carter-Williams (#11 pick) were all also outfitted with specially made pocket squares from the custom menswear house (and all styled by Boushra AlChabaoun, BTW). Zeller "The Big Handsome" did his monicker proud in tonal blues by Elevee with a gingham tie. While C.J. opted for his own Elevee suit in warmer earth tones—one of the lone tan numbers of the night—and MCW's look (also Elevee) was summer-ready, pairing a pastel slate blue jacket and trousers with a crisp white shirt, vibrant patterned tie and accent pocket square.
BIG BLUE LINING
Nerlens Noel at the 2013 NBA Draft.
Photo: Getty Images
Name: Nerlens Noel
Order: #6
Picked by: New Orleans Pelicans
Before Draft Day, the NBA set up an opportunity to vote for which suit promising draft hopeful Nerlens Noel should wear on his big night. There were three choices (all blue in honor of Big Blue Nation) and we voted for this one. Guess what he wore! *brushes shoulders off* We're, like, 80% confident we had nothing to do with that choice, but it's nice to pretend. Also, the lining of his jacket should be noted: it's his University of Kentucky jersey!
JIGGY JAYHAWK
Ben McLemore at the 2013 NBA Draft.
Photo: Getty Images
Name: Ben McLemore
Order: #7
Picked by: Sacramento Kings
Kansas University's Ben McLemore also used his Draft Day ensemble to represent for his school, working a navy Elevee suit with a peak lapel, contrast piping, and a satin sheen with a red and navy bow tie. Ben also wore his jersey in his suit lining which was inserted in SEVEN HOURS! *wipes sweat from upper lip*
Hey @SacramentoKings fans... It's @BenMcLemore. How do I look? pic.twitter.com/LOrbLv4WWM

— NBA (@NBA) June 28, 2013
COUNTRY STRONG
Alex Len and Steven Adams at the 2013 NBA Draft.
Photo: @MTVStyle's Instagram/@NBA's Twitter
Name: Alex Len, Steven Adams
Order: #5, #12
Picked by: Phoenix Suns, Oklahoma City Thunder
International NBA draftees Alex Len and Steven Adams gave sartorial shout outs to their homes in the Ukraine and New Zealand respectively by emblazoning their jacket linings with nods to their countries' flags.
GQ FRESH
Trey Burke at the 2013 NBA Draft.
Photo: Getty Images
Name: Trey Burke
Order: #9
Picked by: Minnesota Timberwolves
Not only was Trey Burke this year's National Player of the Year, he was also the one draftee cherry-picked by GQ magazine for an extra special feature in their July issue wherein he got a full multi-look editorial spread. Looks like he learned a thing or two on the shoot because his subtle nod to Michigan's blue and gold with his Draft Day suit was very well played.
MR. GLASS
Victor Oladipo at the 2013 NBA Draft.
Photo: Getty Images/@Dr__Carson's Twitter
Name: Victor Oladipo
Order: #2
Picked by: Orlando Magic
It may not have made it to the stage, but we think #2 pick Victor Oladipo could have been on to something wearing a pair of Google Glass on his way to Barclays. They do fit in line with that non-prescription lenses trend, after all.
REDEFINING HAT HAIR
Lucas Nogueira at the 2013 NBA Draft.
Photo: Getty Images
Name: Lucas Nogueira
Order: #16
Picked by: Boston Celtics
Brazil's Lucas Nogueira set Twitter ablaze when he was selected #16 2013 NBA Draft pick by the Boston Celtics. His suit and tie game was nice, but it was his hair, or rather the fact that it prevented him from being able to put on his brand new draft hat that everyone was talking about.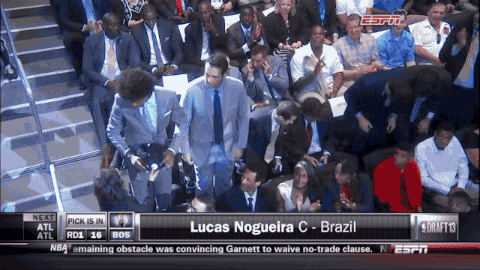 Photo: Bleacher Report
FOR THE KNICKSTAPE
Spike Lee at the 2013 NBA Draft.
Photo: Getty Images
Spike Lee (obviously) wasn't participating in the draft, but we're including him as a representative of all the fans who flooded the seats of Barclays. As the Knicks' #1 supporter, Lee was expectedly decked out in blue and orange, but what impressed us was that his superfandom extended all the way to the BOTTOM of the bill of his hat.
OLAJUWON SURPRISE REPRISE
Hakeem Olajuwon surprises David Stern at the 2013 NBA Draft.
Photo: @MTVStyle's Twitter
Finally, this 2013 NBA Draft was the 30th and last for NBA commissioner David Stern. In honor of the momentous occasion, the league surprised him with a guest appearance from the first rookie Stern ever announced: legendary center Hakeem Olajuwon. As if that weren't heart-warmingly nostalgic enough, Olajuwon was also wearing the same (or at least a similarly styled) suit as the one he wore on his Draft Day in 1984.
Like us on Facebook so we can be friends and follow us on Twitter @MTVstyle to talk.