For his follow-up to "127 Hours," Danny Boyle is returning to his roots with a brand new off-kilter crime drama, except this time his Ewan McGregor is actually James McAvoy. (Which actually makes a lot of sense if you think about it.)
"Trance" tells the story of an art auctioneer (McAvoy) who plans on stealing one of the expensive items on the block with the help of some dangerous men. When the theft goes wrong and McAvoy's character ends up with a bump on the head, a hypnotist attempts to extract the location of the hidden painting.
An overseas release, complete with UK trailer, has been planned for some time, but yesterday Fox Searchlight announced an April 5 US premiere date for "Trance," so we'll get to join in on the fun soon enough.
Until then check out the international trailer, US poster, and plot synopsis below!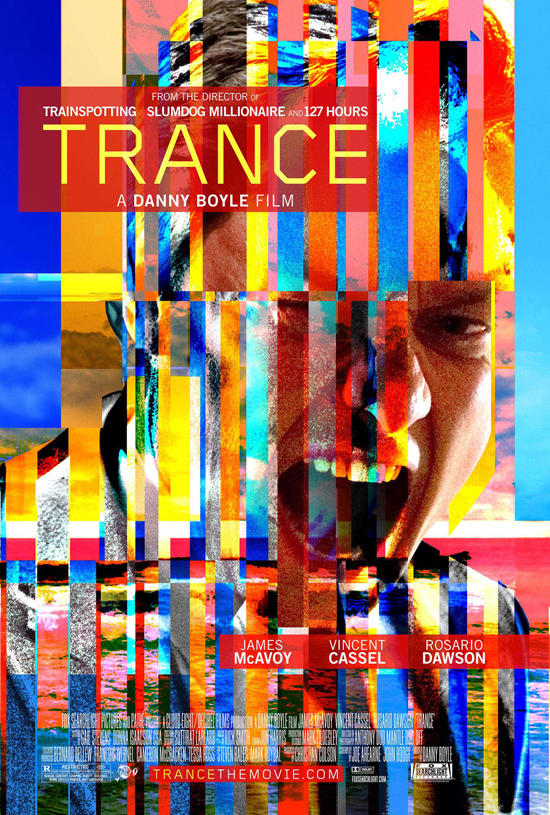 Fine art auctioneer Simon (McAvoy), in league with a gang led by underworld boss Franck (Cassel), plots the audacious theft of a masterpiece by Goya from a major public auction. When Simon double-crosses the gang during the robbery, Franck retaliates violently and knocks him unconscious. In the aftermath of the heist, Simon sticks stubbornly – and perhaps shrewdly – to his claim that the violent trauma has left him with no memory of where he stashed the artwork.

Unable to coerce the painting's location from Simon, Franck and his associates reluctantly join forces with a charismatic hypnotherapist (Dawson) in a bid to get him to talk. But as they journey deeper into Simon's jumbled psyche the boundaries between reality and hypnotic suggestion begin to blur and the stakes rise faster and far more dangerously than any of the players could have anticipated.