There is one thing that a "Star Wars" fan never has to worry about: a lack of merchandise in the marketplace. The licensing geniuses at Lucasfilm ensured long ago that the universe of "Star Wars" stuff extends well beyond t-shirts, mugs and posters. And now that there's another trilogy in the works, "Star Wars" merch will be hotter than ever.
So, for the fan on your holiday shopping list, we offer this handy "Star Wars" Gift Guide. On it you will find gifts for everyone from young Padawans to old Jedi Masters that will fit every budget.
1. Winter's coming fast, so a functional yet stylish severed Wampa arm ice scraper will be much appreciated by your loved ones in harsher climes.
2. Provide protection for the non-scraping arm with a glove like Anakin Skywalker's.
3. Help your darksider friends build a Death Star...
4. …and then debate Who Shot First, using Han's blaster as visual aid.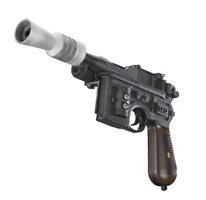 5. Offer a warm, comfy night inside a tauntaun...
6. ...or cool drinks made with Millennium Falcon ice cubes.
7. For the active Jedi on your list, give a lightsaber...
8. ...and teach him how to use it.
9. There's even something for the inactive Jedi.
10. Shopping for others is nice, but the most important person on your galactic gift list should be you. Why not liven up your own home while honoring the most bad-ass of bounty hunters with a bronze statue?
What "Star Wars" gifts are on your list this year? Let us know in the comments below and on Twitter!