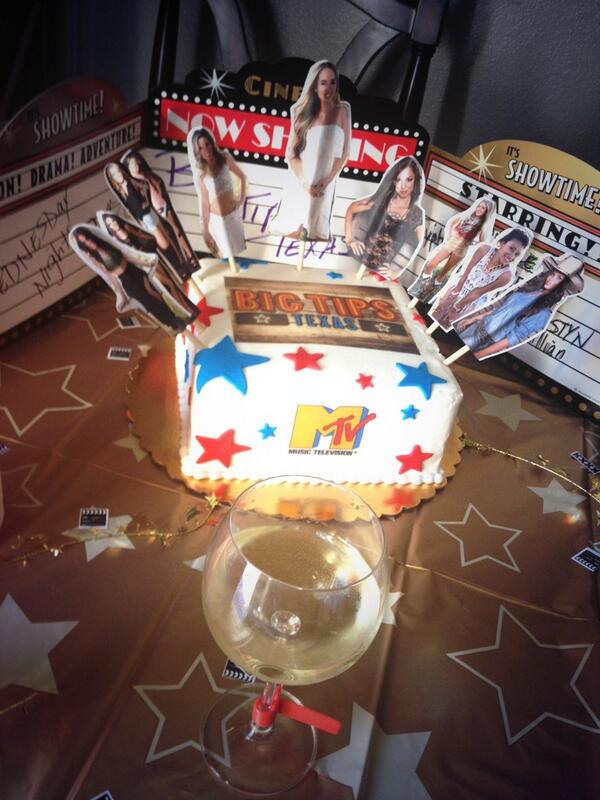 No party is complete without a tricked-out cake.
Whether it's snatchin' weaves, letting their wobbly bits hang out or bar top-dancing, the ladies of "Big Tips Texas" sure know how to make a scene. So when these rowdy cowgirls throw a party (though we suppose every day is a party at Redneck Heaven), you just know all hell is gonna break loose -- especially when the shindig is in honor of their brand new show! From busting out the recliners to making an MTV-themed cake, the cast toasted to "BTT" in true Texas fashion. Who needs a red carpet and champagne when you have Minnow Bombs and Daisy Dukes?
On Thursday night, Typhani, Amber, Morgan and the rest of the Redneck girls gathered at the best little bar in Texas to watch the hour-long premiere, and let's just say we were very sad our invites got lost in the mail, because it looked like the hoedown of the century. Check out all the party pics, and make sure to pay your respects to the guppie Amber downed (see video)! Let's hope she took her own advice: shoot it, don't chew it.
The king and queen of Redneck Heaven sit on their thrones.
Kristyn and Morgan went from enemies to BFFs because of their shared love of weaves.
Morgan and her boyfriend, Chance, pose for a pic.
Kristyn and Amber *really* seem to like "Catfish."
Amber downs what we're sure is her umpteenth Minnow Bomb.
Dig Remote Control? Follow us on Twitter, like, now.
Photos/Video: @tinkers_belle on Instagram, @morgan_adler on Instagram, @kristyncole on Instagram, @yourchinadoll on Twitter