MONSTER news: Eminem and Rihanna will perform LIVE at the 2014 MTV Movie Awards!
Put your hands up in the air, get ready to pour it up and then utterly lose yourself over the stage slay-age, because Eminem and Rihanna (you may recall them from "The Monster," being one of the greatest rappers of all time, and dominating pop music, fashion, Instagram and your whole life, respectively) are performing at the 2014 MTV Movie Awards on Sunday, April 13.
Run.
And.
Tell.
That...
Speaking of the Lord, apparently God and Jesus were busy (they send their best and wanted to tell all of their fans "thanks for all of your support"), so we got the absolute next best things, and we're so excited we're basically having excited's baby. Actually, it's twins. And we're naming them Marshall and Robyn (even if they're both boys, because conveniently those names still work).
I KNOW RIGHT? And as that great American thinker John Dewey once famously quipped, "if you're so excited you can barely breathe, say it instead with GIFs and reaction videos." Wait. That may not have been him. We're just too busy mentally preparing for Rihanna and Eminem's first MTV performance together since their 2010 MTV VMA performance -- which literally set the stage ablaze -- that we're turning our feelings over to this video, which encapsulates the extent to which we're freaking the f*ck out over this endlessly epic performance news:

+ Watch Rihanna and Eminem Are Performing At The 2014 MTV Movie Awards: The Freak-Out Video, and watch the 2014 MTV Movie Awards live from Los Angeles on Sunday, Apr. 13 at 9/8c!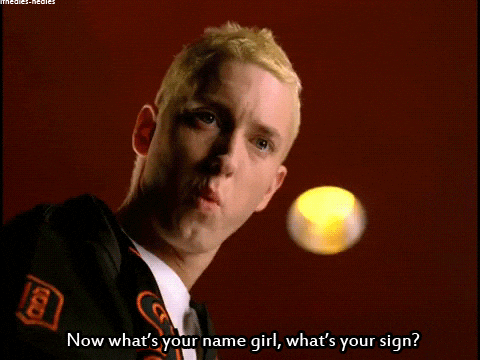 Credit: Reactiongifs.com; Giphy; Fuse; PerezHilton; Gifpeanutbutter.tumblr.com; Hellyeahrihannafenty.tumblr.com