Oooh, killa, it was trouble holding all those Miley Cyrus "Unplugged" secrets in! But now that the crying cat's out of the Chanel bag, I can finally share that, oh hi, I've spent the past two days at Miley Cyrus' "Unplugged" rehearsal and performance in L.A. You'll have to wait until tonight -- Wednesday, Jan. 29 at 9 p.m. ET/PT to watch. But because everyone loves a good spoiler, here are a few show secrets before Miley's "Unplugged" premieres.
1.) DOUBLE DENIM RODEO, Y'ALL! Miley two-stepped out in a denim bikini top and some ultra baggy matching jeans busting a serious sag. On anyone else you'd probably be like, nah brah, but it's Miley Cyrus, so I was like THANK YOU, BASED GOD. It was also a little Gwen Stefani circa Tragic Kingdom, which is always a good thing, IMO) and a LOT like Britney and Justin circa the 2001 America Music Awards during their all-too-brief denim royalty phase. My more fashionable sistahs at MTV Style have the entire rundown on Miley's whole "Unplugged" lewk in case you're lewking to buy or DIY.
This should come as no surprise considering Miley tweeted Britney and Justin's all-denim-everything outfit just last year as a reminder to us to never forget. CLUES! THEY'RE EVERYWHERE!
This happened. pic.twitter.com/lL6ncPOR1h

— Miley Ray Cyrus (@MileyCyrus) May 21, 2013
2.) HORSES HORSES HORSES! Love horses AND Miley Cyrus AND twerking? (I'm speaking for you because I love those things, you see.) You're gonna love the twerking horse in Miley's "Unplugged" set.
3.) BFF COWGIRL HATS: That white sequined cowboy hat Miley wore? Oh that? It was a gift from Madonna herself...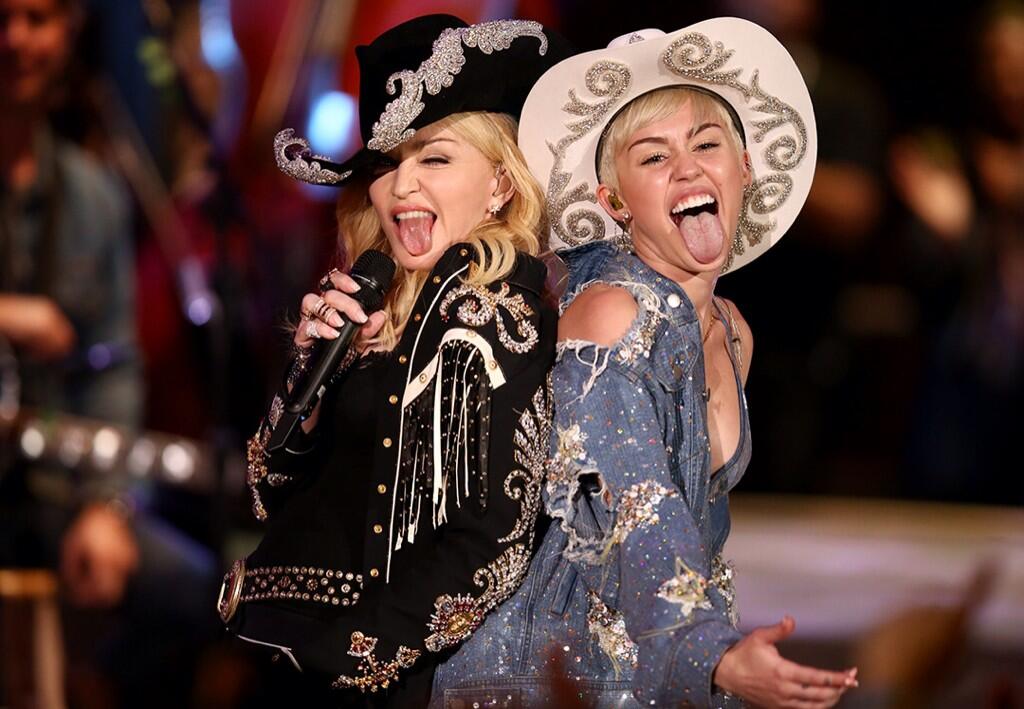 4.)... BECAUSE MADONNA POPPED UP FROM THE "UNPLUGGED" AUDIENCE AND TWO-STEPPED HER WAY INTO A MADONNA:
Oh you haven't heard that the QUEEN OF POP AND POP CULTURE AND OF YOUR LIFE joined Miley Cyrus for a "Don't Tell Me" duet? Here's what Miley Cyrus had to say about Madonna's "Unplugged" duet when I asked her immediately after her rehearsal. (#platinumumpixiehairflip)
"MILEY CYRUS UNPLUGGED" AIRS WEDNESDAY, JAN. 29 AT 9/8c! AND DON'T MISS FULL-LENGTH VIDEOS PLUS THE CHANCE TO WIN A TRIP TO MIAMI WITH MILEY AT MILEY.MTV.COM!
Credit: Globalgrinde; Jeffrey Mayer/ Wireimage; Christopher Polk/ Getty; Madonna's Instagram