Proud mother. Blushing newlywed. DIY master. Ladies and gents, get ready to put the praying-hands emoji to good use because Nicole Polizzi has one more important role in her life: ordained minister.
Yup, that's correct. Snooki is now a preacher of the holy word, earning her officiating license along with a new, self-appointed title: Mama Reverend.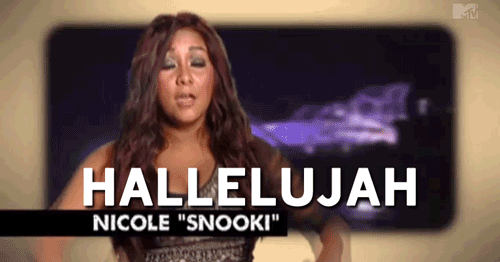 How did she share the exciting news? In less than 140 characters, of course:
In the proverbial road to happily ever after, the "Snooki & JWOWW" star deserves an automatic spot in the driver's seat because she did plan THE wedding of the century in 2014. And now, she's getting ready to help her hairstylists (and good friends) Bradley Moreland and Louie Lou tie the knot this summer.
So, as she settles into her new responsibilities, we couldn't help but think of all the things our favorite guidette would do on the other side of the altar:
Show that getting SUPER-emotional is absolutely normal for any wedding attendee.

Explain the values of true love and a strong marriage.

Teach everyone to let loose. A wedding is about having a good time, after all.

Bust a move, because every dance floor needs to be fresh to death.

Give an extremely heartfelt toast for all to cherish.

Set the vibe at the open bar.

Enjoy new cuisines at the reception.

And familiar comfort foods, too.

Strike a memorable pose in every group pic. The photo album's gotta be killer.

Oh, and spread the absolute gospel of any awesome party: HAVE FUN!