Halloween is just around the corner, and, in keeping with the theme of scary-a** s***, we chose today to share some BIG news about MTV's upcoming "Scream" series. But there's a trick before you get your treat: In order to hear the announcement, you must dial (carefully) 310-461-4299. Preferably while wearing a black cloak.
Or a really bad blonde wig: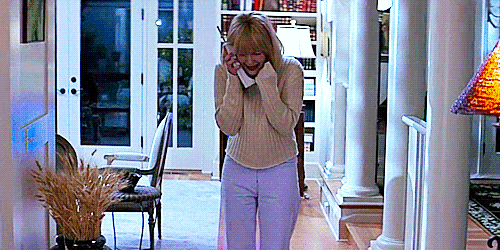 As previously reported by MTV News, John Karna of "The Neighbors" and Carlson Young of "The Kroll Show" will have key roles in the TV adaptation of the memorable horror film franchise. The show will be directed by Jamie Travis, who's previously worked on "Faking It," and executive produced by Jill Blotevogel and Harvey and Bob Weinstein under the Dimension TV production umbrella.
If you haven't already dialed, DO IT NOW. (C'mon, guys, why must we always repeat ourselves?) N-O-W.
GIF: giphy