The days are getting shorter, the air's a little bit crisper and you know what that means: party season. Halloween is next week and the holidays are right at its heels. Oh, 2014, we barely knew ye...
A good bash is the ultimate way to bring those close to you together, but it can also prove to be one incredibly daunting task –- thankfully, we can still look back at "My Super Sweet 16" for an A-Z guidebook to proper party prep. The reality show hasn't been on the MTV airwaves since 2008, but the lessons its celebrants left still inspire us. And so, we've strung together some of the most lavish fêtes the series featured -- new cars and designer gowns included!
Are you ready to become the ultimate #partyprofessional? Here's how to make your event unforgettable (minus the tantrums, of course):

Throw a "pre-party party":
Don't be shy -- let the invitees know you're hosting THE social event of the year.

Hold it at the hottest venue:
It's gotta be the hippest spot in town.

Set a theme:
Don't leave a single thing to the imagination.

Make sure the music playlist is off the charts...
Bringing in a famous face doesn't hurt, either...

...so your guests can dance the night away:
A good host/hostess knows how to bust a move.

Serve sweet treats and refreshments -- even before the event happens: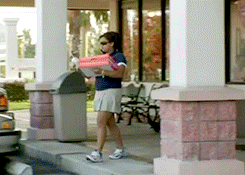 When in doubt, eat donuts.

Taste-test the finest cuisine:
Popcorn and pretzels need not apply.

Prepare a grandiose entrance, for both you and your BFFs:
No better way to say "Let's get it started!" Right, J-Law?

Weed out any jealous party crashers:
Don't let the haters ruin the day.

And, most importantly: HAVE FUN:
GIF: RealityTVGIFs.com