"Happyland" is known for making dreams come true, but hometown Dazzle darling Lucy and the boss' hunky son Ian have found themselves in a situation that doesn't befit a fairytale: The brother and sister locked lips, and then Lucy discovered that they have the same papa. Like the great Lumiere declared in "Beauty and the Beast": ZUT ALORS!
The brunette beauty eventually came clean to her flirtatious sibling, and he was understandably shocked:
Related: 'Happyland' Vs. Disneyland: Which Is Really The Happiest Place On Earth?
But Prince Charming and his Princess are hardly alone when it comes to, well, brother/sister love. Take a look at some other incestuous pairings -- and be sure to keep watching "Happyland" on Tuesdays at 11/10c!
Cersei Lannister and Jaime Lannister from "Game of Thrones"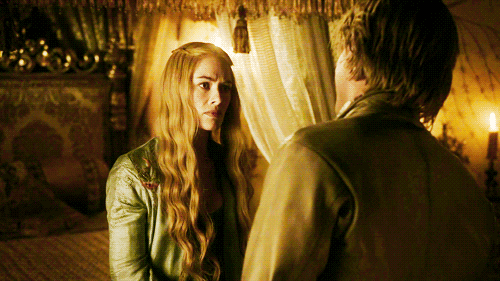 The cold-as-ice Queen of the Seven Kingdoms (Lena Headey) and the "Kingslayer" (Nikolaj Coster-Waldau) began their volatile and disturbing hookups during childhood. While the continent of Westeros believes that Cersei's children -- Joffrey, Myrcella and Tommen -- are with King Robert Baratheon, her twin (ack) is actually the father of the three very blond kids. And on the extremely WTF scale, who could forget the C&J rape scene next to their despicable son's corpse? In one word: gross.
Kathryn Merteuil and Sebastian Valmont from "Cruel Intentions"
The step-siblings had an undeniable sexual attraction, and they chose to elevate their temptations with an interesting wager: Sultry and conniving Kathryn (Sarah Michelle Gellar) bet the equally seedy Sebastian (Ryan Phillippe) that he wouldn't be able to take innocent Annette's (Reese Witherspoon) virginity. The stakes: If he couldn't bed the blond, Kathryn would get his swanky ride. But if he was able to seal the deal, then he would also get to have sex with Kathryn.
While the duo shared some pretty erotic scenes, SMG walked away with the "Best Kiss" MTV Movie Award for a lip-lock with another one of her co-stars in the flick: Selma Blair.
Boone Carlyle and Shannon Rutherford from "Lost"
Steamy step-siblings! Here's their backstory: Shortly after Shannon's (Maggie Grace) father died (he was married to Boone's mama), she experienced some financial hardships and turned to Boone (Ian Somerhalder) for help. The blue-eyed hunk, who always lusted after his sis, began supporting her -- but things got complicated when she started conning him for money. Her twisted plan: fake abusive boyfriends, have Boone "rescue" her by paying the so-called bad guys off and then take the cash and run. In fact, her deception led Boone all the way to Sydney. When he learned about the betrayal, he was deeply hurt -- but still managed to consummate their relationship the night before boarding Oceanic Flight 815. Too bad they couldn't rekindle anything on the island since they both, you know, didn't make it out alive.
Lissa and Tyler from "Awkward"
Palos Hills' head cheerleader (Greer Grammer) and the British-educated exchange student (Kofi Siriboe) aren't blood-related -- Lissa's parents adopted the sweet guy during a mission trip to Africa -- but the duo are technically brother and sister. So there's that (you guessed it) awkward twist.
Cher and Josh from "Clueless"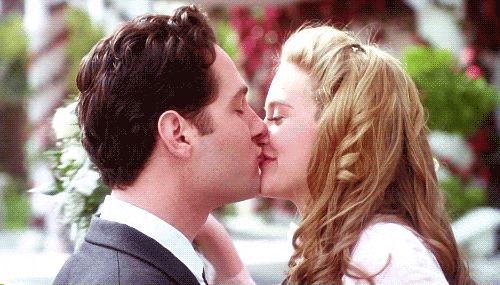 Even though the privileged Beverly Hills rich kid (Alicia Silverstone) would balk -- and declare "as if" -- whenever her nerdy but lovable step bro (Paul Rudd) was around, Cher eventually came to the shocking realization that she, in fact, "LOVES JOSH." The pair grew thisclose as they bonded over her father's law crisis -- plus Cher's confusion over Bosnia and peace in the Middle East.
Chris Dollanganger and Cathy Dollanganger from "Flowers In the Attic"
The Dollanganger sibs' relationship in the bestselling 1979 novel, and later on the big and small screens, made heads turn. In short, the adolescent duo were locked in their family attic and developed an obviously inappropriate connection. Their dalliance was featured in two adaptations: the so-bad-it's-good 1987 film version (shown above, with Jeb Stuart Adams and Kristy Swanson) and the 2014 made-for-TV movie with Mason Dye and Kiernan Shipka.
Greg and Marcia Brady from "A Very Brady Sequel"...plus Maureen McCormick and Barry Williams
In the 1996 parody/homage, matriarch Carol and patriarch Mike discovered there was a possibility they weren't actually married -- and that meant the amorous Greg (Christopher Daniel Barnes) and Marcia (Christine Taylor) may not have been bro and sis after all. Even though the teens tried to fight their feelings, they finally succumbed and shared a passionate smooch.
Getty Images
But years earlier, Marcia and Greg's onscreen tension apparently manifested offscreen and culminated in a very Brady love story: In case you didn't know, Maureen McCormick and Barry Williams -- the original, small-screen Marcia and Greg -- dated IRL. Oh, and Williams had a thing for his TV mom (Florence Henderson), too. Sing it all together now: Here's the story, of a lovely lady...