New York Comic-Con officially kicks off today (October 9) and goes through the 12th. Since "Guardians of the Galaxy" didn't hit theaters until after the last big convention in San Diego, NYCC is a victory lap of sorts for Marvel's most out-there movie yet.
If you're looking to cash in on what's sure to be a Guardians-filled convention, here are some events you can check out and items you can snag to get the most cosmic bang for your buck at NYCC.
Cosplay as a Member of the Team
[COSPLAY] Mini Star-Lord! ▸ Shop #GuardiansOfTheGalaxy Collectibles: http://t.co/wdYynmVscD pic.twitter.com/itVrvJZF0h

— Entertainment Earth (@EntEarth) October 4, 2014
Thanks to the size of the team, you've got some options. Are you more a Groot or a Drax? And don't let convention hold you back. You're sure to see some male Gamoras or female Star-Lords out there. Then you can enter Marvel's official costume contest.
Find Four Other Cosplayers and Assemble the Guardians
This Is The Best Guardians of the Galaxy Group Cosplay Ever - Link: http://t.co/1p5tKZRR4e pic.twitter.com/DMLKAURiRz

— Dorkly (@dorkly) July 1, 2014
No matter which member of the team that you dress as, you shouldn't have too much trouble finding four a-holes to complete the quintet.
Attend the "Guardians of the Galaxy- Then and Now" Panel
On Friday at 2 p.m. in room 1A18, you'll be able to listen to some of the Marvel Cosmic Universe's biggest writers, including Jim Starlin, the man behind "The Infinity Gauntlet," talk about all things from the other side of the galaxy. Check
Pick Up Howard the Duck or Dancing Groot from Funko Pop
The two end-credit surprises are now available in a super cute and purchasable package.
Meet Andy Lanning in Artist Alley
One of the guys responsible for creating the version of the Guardians that everybody now knows and loves will be hanging out in Artist Alley in booth Z1, so stop by and say "Hello."
Find People to Groot With
This one should be easy. Find a group of people, hopefully some of whom will be dressed as Groot. Then get one person to try to catch you dancing while their back is turned.
Sign Up for Marvel Unlimited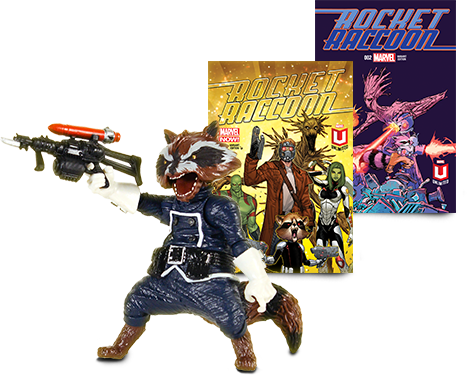 If you sign up for Marvel's Unlimited Plus program, not only will you get access to the members-only panel on Sunday, but you can snag the cool Rocket figurine above.