Lauren Conrad said "I do" to her beau William Tell this past weekend along the coast in Santa Ynez, California -- just a few hours away from her Laguna roots. While details surrounding the lavish nuptials have been limited (but thanks, Frankie Delgado, for this simple snapshot!), we can say one thing with absolute certainty: It was very different from Heidi Montag and Spencer Pratt's "Hills" wedding.
Related: Lauren Conrad And William Tell Are Married!
Let's look back at Speidi's unforgettable ceremony and count the ways Lauren's big day was probably nothing like it:
It won't be featured on "The Hills"
Miranda Penn Turin
It was a very private affair for Lauren and William, and the only cameras present were their own. We wish we had a front row seat, but c'est la vie.
There was no Lauren/Heidi hug before a walk down the aisle
We're guessing that the only people with the fashion designer before she met her groom at the altar were her bridesmaids, which included her longtime BFF Lo Bosworth, as well as her family -- and definitely not her former best pal, who was at her sister Holly's wedding.
So naturally, an embrace between the duo most certainly didn't happen.
Kristin Cavallari didn't attend...
Lauren's former arch rival, who actually played matchmaker and introduced Heidi and Spencer several years earlier, made a belated entrance and plopped herself right next to perennial bad boy Justin Bobby.
...so she definitely wasn't wearing the same color-combination as Lauren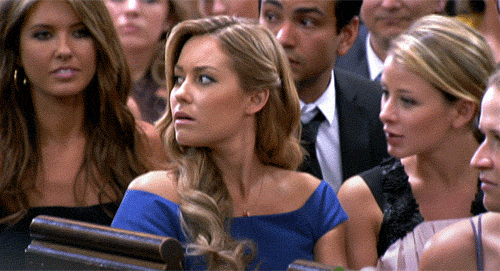 Since nobody was donning white, except for, well, the bride.
The lucky lady who caught the bouquet was...
...not K-Cav. The now-married-mother of two, who was linked to Stephen Colletti and Brody Jenner just like Lauren back in the day, beat out all the other single ladies and grabbed the blooms outside the church. But we're putting our money on our girl Lo at the Conrad-Tell wedding.
Lauren didn't make an early exit
It's very safe to assume that Lauren, along with her new husband, were the last to depart their opulent nuptials -- therefore, they didn't quietly duck out the back and make a beeline for their ride. And we're sure the new Mrs. Tell probably didn't need her Jackie O.-style shades during the nighttime hours either.
But one thing we're sure was definitely present at Lauren's wedding
This fantastic and perfect smile.
Relive Speidi's big day below, and be sure to offer your congrats to the Tells!