Since Beyonce flawlessly closed out the 2014 VMAs and received the prestigious Michael Jackson Vanguard award and was surprised by her husband Jay Z and daughter Blue Ivy onstage, a lot of our attention has been focused on her and her family. But when all three of the Carters are onstage, it becomes apparent who the real star is: Blue Ivy. And yes, MTV along with everyone else was so happy to celebrate Blue's first-ever VMAs!
But it simply couldn't go without mentioning that technically -- it's actually her second!
Yes, little Blue was famously the star of another Video Music Awards show back in 2011, when her superstar mom-to-be Bey revealed that she was preggers while onstage mid-performance! So let's compare the littlest Carter's two VMA appearances, shall we? Bear with us as we channel some embryonic energies to get a feel for Blue's in utero moments.
Related: Fifth Harmony Say They 'Had A Moment' With Blue Ivy At The VMAs
What Blue Wore To The VMAs In 2011...
Sure, for her first VMAs, Blue had to make do with the white button-down shirt and pair of high-waisted black pants that her mom, Beyonce, chose to perform in -- but have you ever seen a baby bump look more stylish?
And In 2014!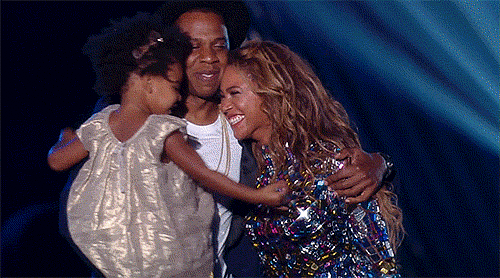 Blue's Bonpoint spun gold dress looked great even from the back as she gave her mom a congratulatory pat. And the gold of Blue's dress and Bey's bejeweled bodysuit played off each other nicely.
How Jay Z Reacted To His Daughter's Awesomeness In 2011...
The fact that she exists is enough to blow his mind. And thanks Kanye, for sharing in the moment.
And In 2014!
Even Jay Z was blown away by how cute and flawless Blue was at Sunday's VMAs. Did he know she'd been listening to her mom's album so much? She's even got some of the dance moves down.
A Tender Moment With Her Mama In 2011...
Gregg DeGuire/FilmMagic
Bey's huge smile shows us how much she already loves the bundle of joy growing inside her.
And In 2014!
John Shearer/Invision for MTV.com/AP Images
We rarely -- if ever -- see Beyonce break out of her perfect, beauty pageant-worthy composed smile while she's in public. But the sight of her daughter, Blue, onstage made everyone else fall away. For these two, they're the only ones in the world who are in this moment.
Nothing can break the bond between a mother and a daughter -- not even the entire world watching. If Blue keeps amping up her appearances at the VMAs at this same rate of incredibleness, who knows what she'll be up to by the time she's her mom's age?
Blue Ivy, you're truly flawless.